2023 Best Patio Collections – Pioneer Family Pools
Lifestyle - Patio
2023 Best Patio Collections
Welcome to our guide to the best patio collections of 2023! With the warmer weather approaching, now is the perfect time to spruce up your outdoor space with the latest patio furniture designs. Whether you're looking for a cozy spot to relax in the sun or an elegant dining area for outdoor entertaining, we've compiled a list of the top patio collections that are sure to elevate your outdoor living experience. From classic to contemporary, and everything in between, these collections feature durable materials, comfortable seating, and stylish designs that will transform your patio into a beautiful and functional extension of your home.
Plus! We have been in the patio furniture industry for over 40 years, so we REALLY know the best quality, current designs and top manufacturers. So, let's dive in and explore the best patio collections of 2023!
Stratford Collection
If you're looking for a stylish and eco-friendly patio furniture collection, the Stratford Collection is a perfect choice! Crafted from up to 100% recycled plastic, this collection diverts millions of pounds of plastic from landfills and oceans. The Stratford Deep Seating Collection features a simple, sleek, and contemporary design with multiple modular configurations to fit any outdoor space. You'll appreciate the ergonomically designed seating that ensures lasting comfort and convenience for years to come.
The Stratford Collection is perfect for both residential and commercial use, thanks to its durability and sturdy construction. Made with recycled resin and stainless steel hardware, this furniture requires no painting and is completely waterproof, making it ideal for outdoor use. The 7/8" gauge plastic lumber and heavy weight of the furniture make it a great choice for windy areas.
While assembly is required for this collection, it's relatively easy and straightforward. To add even more beauty to your outdoor space, consider adding quick-ship Sunbrella cushion sets that are designed to complement the Stratford Collection's natural charm. Overall, the Stratford Collection is a smart and sustainable choice that will bring long-lasting beauty and functionality to your outdoor living space.
Melrose Deep Seating Collection
The Melrose Deep Seating Collection is a perfect option for those looking for a practical way to combine lounging and dining in their outdoor space. It's a great choice for those who have limited space or want to make outdoor living more convenient. This collection comes in a beautiful, natural beige colour that will add charm to any backyard. The contrast between the beige wicker and the bright cushions creates a warm and elegant ambience in your outdoor space. With plenty of seating, the Melrose Deep Seating Collection is perfect for entertaining guests. The high-back seats and plush cushions offer the perfect combination of comfort and style.
The Melrose Deep Seating Collection is made with a sturdy aluminum frame and synthetic resin wicker, making it both durable and weather-resistant. The tempered glass tabletop provides a sturdy surface for dining and entertaining. The cushions come in a choice of black or teal colour and are made of olefin fabric, which is fade-resistant and can withstand the elements. The warranty for this collection covers the frame for one year and the olefin fabric for two years against fading.
This full deep seating collection is sold as a set and comes with cushions included. Assembly is required, but it is a straightforward process that can be done in a short amount of time. The Melrose Deep Seating Collection is a classic, comfortable, and affordable option for anyone looking to add style and functionality to their outdoor space.
Elizabeth Collection
The Elizabeth Collection is a long-standing favourite among customers due to its classic design and sturdy build. This collection is perfect for withstanding harsh weather conditions while still maintaining its beauty. The frames of the furniture are made of cast aluminum, providing reliable support, and the intricate woven design is a stunning showcase for any backyard setting. With dining, bar height, and chaise lounge options available, this collection has everything you need to create an outdoor oasis. The chairs are designed with comfort in mind, and engineered back support allows you to use them with or without cushions while still feeling relaxed. The Elizabeth Collection comes in two colour combinations: bronze frames with a latte cushion or black frames with a black cushion.
This collection offers various table options, including an extension dining table that can extend from 57 inches to 87 inches with two butterfly leaf extensions, giving you plenty of space for hosting large gatherings. The cast stacking dining chair and swivel feature on the swivel dining and bar stool pieces make them easy to store and use as needed. The adjustable foot glides allow for easy levelling on uneven surfaces. Seat cushions are included in the frame price, and all dining tables feature an umbrella hole for added convenience. With a one-year limited warranty and Olefin fabric that has a two-year fade guarantee, the Elizabeth Collection is a top-of-the-line choice for anyone looking to create an inviting outdoor space. Assembly is required, but is made easy with detailed instructions.
Bali Chaise Lounge
The Bali Chaise Lounge is a comfortable and chic lounger that provides an ideal way to relax and enjoy the outdoor ambiance. With its fully adjustable design, this chaise can be customized to your liking, allowing you to lay completely flat or sit up comfortably to read a book. Its modern frame is constructed from lightweight aluminum, making it sleek, stackable and easy to move around. Furthermore, the addition of wheels not only adds to its stylish look, but also makes it easy to transport. The Bali Chaise Lounge is available in two colour options - Anthracite with Light Grey or Anthracite with Carbon - allowing you to choose the one that best suits your outdoor decor.
Berlin Gardens
Berlin Gardens has recently launched a new range of high-end outdoor furniture called Classic Terrace, that includes various pieces such as deep seating made from recycled resin, fire tables, and an outdoor bar set.
This collection of furniture is specifically designed to provide a comfortable and visually appealing outdoor living space that can endure all weather conditions. The deep seating is crafted using recycled materials, making it not only environmentally friendly but also incredibly durable, while still providing a comfortable seating experience. The Berlin Gardens Classic Terrace deep seating is a perfect example of the high-quality furniture in this range. It provides the indoor quality comfort that you expect while being able to withstand outdoor conditions. The sofa is made using high-grade poly lumber that offers both relaxation and durability, and is cushion options are Bandeau Mineral and Waterpont stone fabrics to add extra comfort seat/back. With this sofa, you can enjoy the beautiful outdoor view without sacrificing comfort. Furthermore, the furniture pieces are designed to be easily paired together, allowing you to create an outdoor space that's perfect for entertaining friends and family. With Berlin Gardens, you can enjoy your patio dining experience in comfort and style.
The fire tables are perfect for those chilly evenings, allowing you to cozy up and enjoy the warmth of a fire while still enjoying your outdoor space. The outdoor bar set is perfect for entertaining guests and enjoying drinks with friends and family. With Berlin Gardens' new line of outdoor furniture, you can create a luxurious outdoor oasis that is both stylish and practical.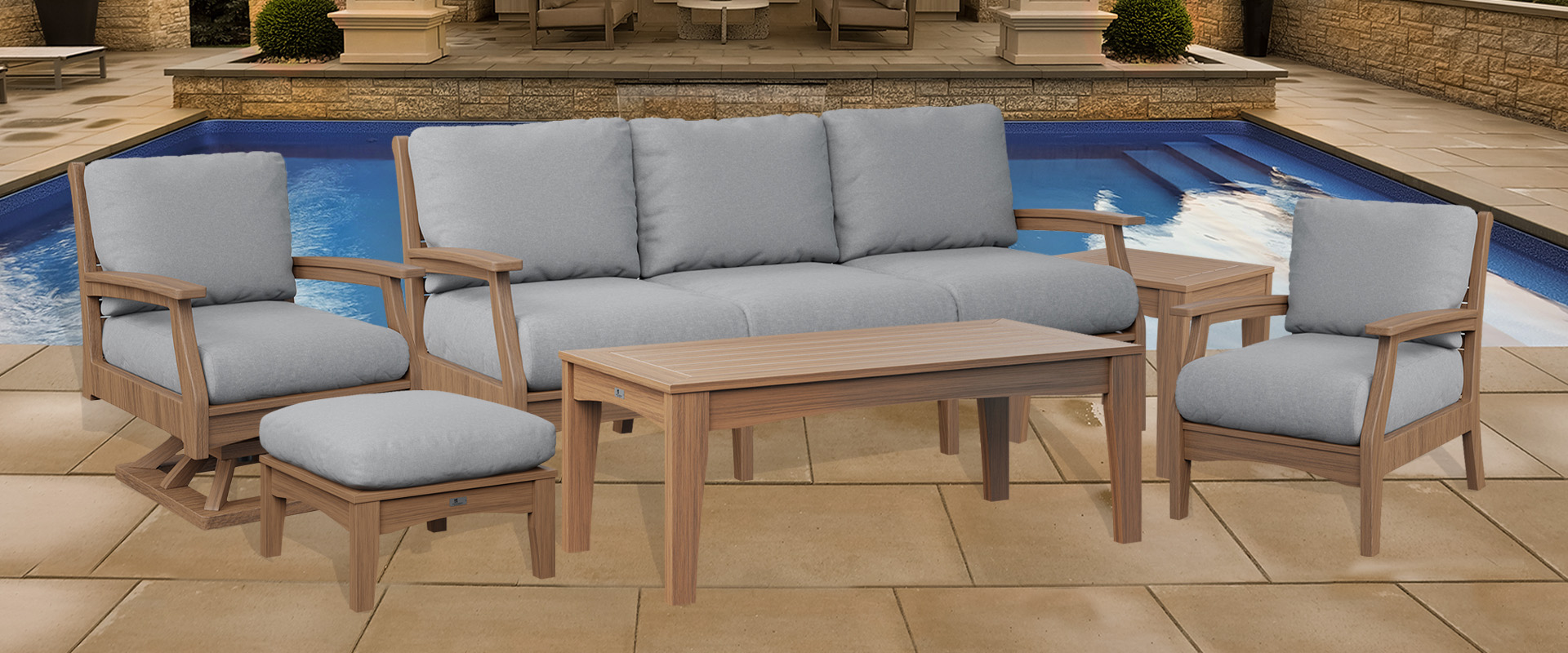 In conclusion, the best patio collections for 2023 offer a wide range of outdoor furniture options that are stylish, comfortable, and durable. From deep seating made from recycled materials to fire tables and outdoor bar sets, these collections offer something for everyone. The use of high-quality materials like poly lumber, aluminum frames, and various fabrics ensure that these furniture pieces are able to withstand the elements while still providing maximum comfort. With these patio collections, you can create an outdoor living space that's perfect for relaxing, entertaining, and enjoying the beauty of the outdoors. So whether you're looking for a cozy chaise lounge or a full outdoor dining set, the best patio collections for 2023 have got you covered.