Why Families Are Buying Above Ground Pools
Advice - Pools
Above Ground Pools have come a long way from their basic octagonal designs and winter-grey exteriors. Today, Above Ground Pools come in a wide range of shapes and sizes that are large enough to accommodate a substantial crew of swimmers. Nowadays, Above Ground Pools can include modern touches such as water features, salt water systems and powerful jets. With an Above Ground Pool, you'll still have the same fun experience of a large inground, but with quicker installation, less maintenance and often at a lower expense.
Keep reading to see why an Above Ground Pool may be the perfect choice for you and your family.
1. YOU SAVE MONEY
Perhaps the most popular benefit of Above Ground Pools are their affordable price tags and the lowered expenses that come with them. Above Ground Pool prices are generally lower than the prices of other pool models currently on the market due to their sizes and smaller-scale installs. In addition, Above Ground Pools have lower operating costs as they typically require less chemicals and less equipment to keep them running in tip-top shape.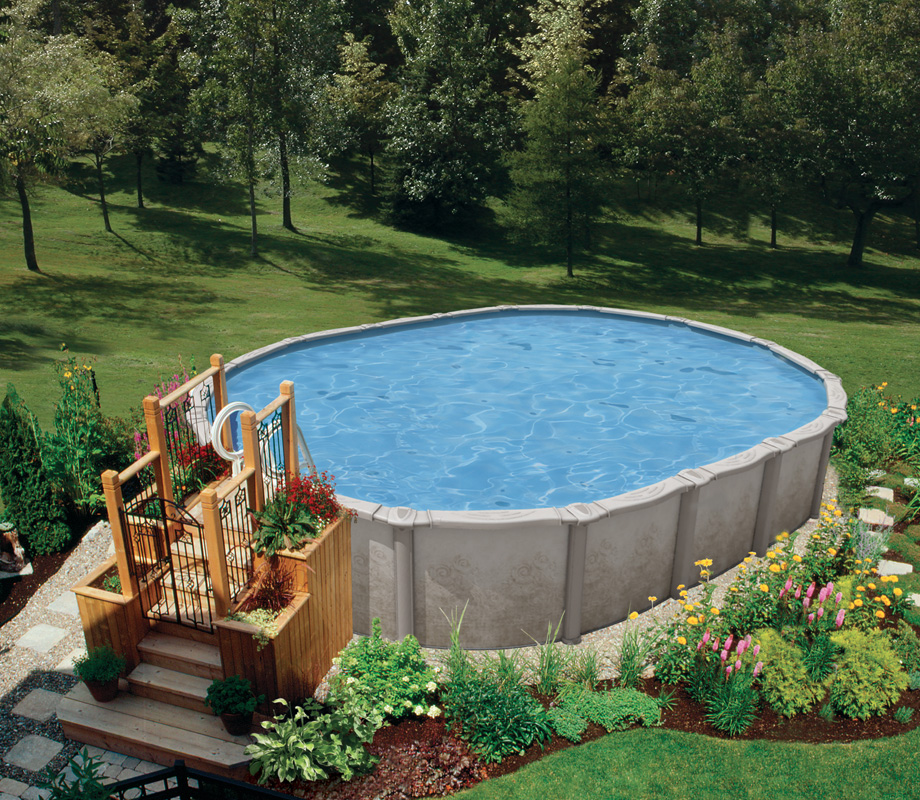 2. INSTALLATION IS QUICK & EASY
Trust us, it's true when we say, "Buy an Above Ground Pool today and you'll be able to swim in three weeks!" Due to the seamless construction of Above Ground Pools, they are quick and easy to install. Instead of digging a large hole in the ground and spending extra dollars on construction, Above Ground Swimming Pools are an "out of ground pool" and can typically be installed within a 1-3 day timeframe. Above Ground Pool components are all precision made to fit together, making installation a breeze while ensuring that your pool has the support to remain durable and tough for years to come.
3. DESIGN POTENTIAL IS UNLIMITED
The Pool Industry is continually creating new designs to modernize and advance the look and function of Above Ground Pools. Gone are the days where pool owners are stuck with having a winter-grey Above Ground sitting stark in the middle of their yards. Whether you're looking for a pool for a small space, or just prefer the "out of ground" pool look, our Above Ground Pools come in a wide range of sizes and styles that will fit the look of any backyard.
We are always sharing new and creative ways to landscape and build around your Above Ground Pool. You will notice that many modern Above Ground Pool designs have been inspired from nature. Enjoy Above Ground Pools with soothing images of tall grass blowing in the wind or rocky textured looking patterns that represent natural strength and raw power. Build a stunning wood structure around your pool, or surround it with plants and trees to create a zen oasis. The possibilities are endless with an Above Ground Pool.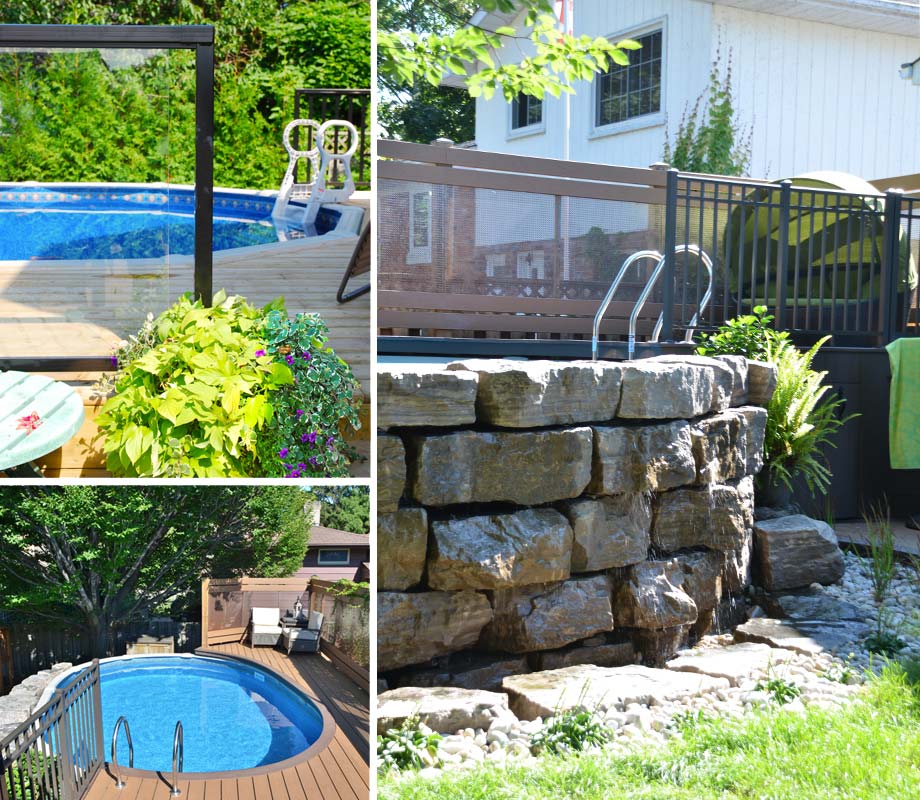 4. SAFE FOR THE WHOLE FAMILY
Parents, this one's for you. It's all depending on your setup, but typically it is much harder for your loved ones, children, and fur babies to fall into an Above Ground Pool Model. If you have a deck built around your swimming pool, or, a fence with a latched gate as added protection, you will feel much more at ease turning your back for a few seconds. Bonus, Above Ground Pools are constantly revered as the perfect pool to teach children how to swim in. Adults can easily stand and support their children as they begin to explore the water.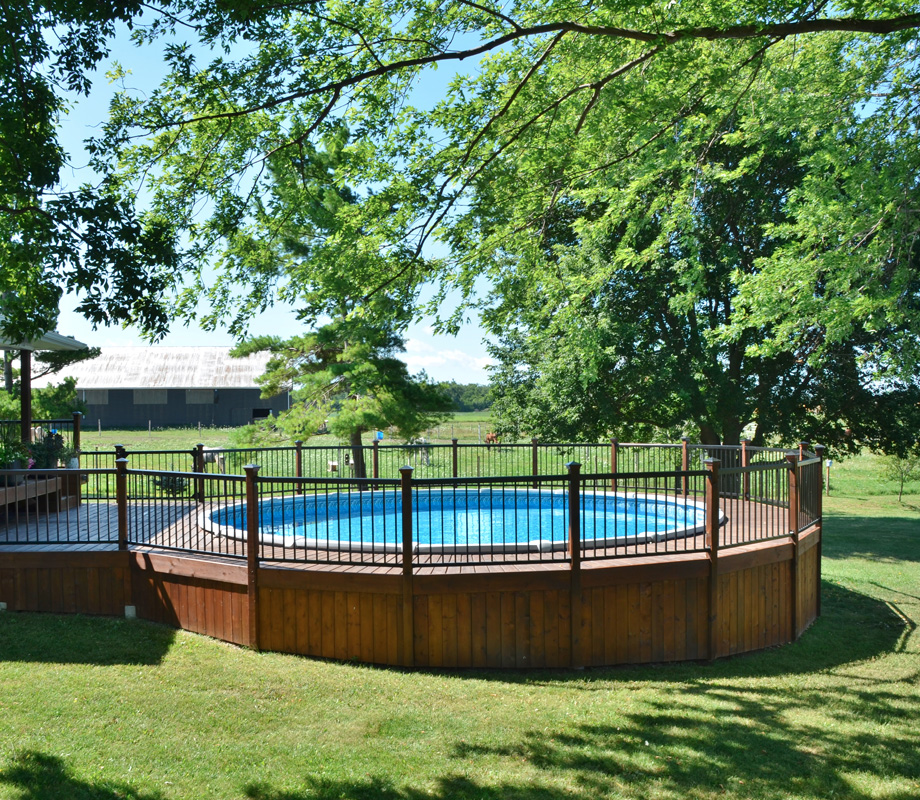 5. MAINTENANCE IS A BREEZE
It's all depending on the size of your Above Ground Pool, but in typical Above Ground models the water usage is much lower than standard ingrounds. This can mean that your Above Ground will require less chemicals and your equipment and sanitation system won't have to work as hard; saving you time, and money!