266,000 BTU Natural Gas Heater
Pool Heaters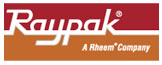 Raypak Pool Heaters Extend Your Pool Season!
Your pool and spa is a long-term investment that you, your family and friends will enjoy year after year, it deserves a Raypak Pool Heater. There's an easier way to enjoy that investment more often, more reliably and more efficiently throughout the year, and that's with Raypak Pool Heaters.
If your'e thinking about being able to use your pool or spa at the perfect comfort level, even when Fall arrives, we recommend the 266,000 BTU Natural Gas Heater by Raypak. Get the most of your pool this year with a Raypak Pool Heater.
Available Sizes:
199,000 BTU
266,000 BTU
332,000 BTU
HTR-PR266AENC