9lb Off Line Chlorine Feeder
Automatic Chemical Feeders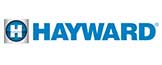 Maintain A Crystal Clear Pool With The Hayward Off-Line Chemical Feeder!
Hayward Off Line Chlorinators are ideal for new and existing pools. They work automatically with the system's recirculation pump. Efficient and maintenance-free, these feeders provide a durable, and corrosion-proof means, of automatically maintaining proper santizer levels. All tablets are comprised with a certain amount of binding materials. Binders are used to convert the chemical into a tablet format. Using the purest form of chlorine, will ensure less build up inside the chlorinator/brominator. Ultimately, this will extend the life of your vessel. For more information, consult your local Pioneer Family Pools Retail Store for chlorine options!
Features:
Uses large or small slow dissolve tablets or sticks
Dial control valve lets you control and adjust the rate of feed
Easy-Lok™ threaded cover for safe and convenient access to add tablets or sticks
Unique finger release catch
Simple installation for do-it-yourselfers
Sale Price
$109
Regular Price - $125
ATC-CL220EF
** Prices reflect in-store pick up only. Taxes extra.