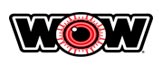 It Took Over 20 Years For WOW Designers To Come Up With The Aqua Treadmill!
The Aqua Treadmill's sprockets enable users to move across the water at speeds up to 16 kmh. Swimmers can also steer by putting all of their weight on one side of the treadmill or the other. See-through construction, for the body of the Aqua Treadmill, allows users to see where they are going on the water.
Once you get tired of moving around, you can use the Aqua Treadmill as a floating island with shade.This high profile inflatable with bright colours makes for highly visibility on your favourite body of water. Everyone will want an Aqua Treadmill once they see what it can do.
Features:
Measures 74″ x 74″ x 61″
Holds 1-3 person(s)
48″ high center cockpit
Steering ability
8 drainage ports
ACC-132030