AquaChek Select Pool & Spa
Water Testing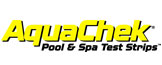 Maintain Your Water This Season With The AquaChek 5-In-1 Test Strip!
Aquachek Select 5-in-1 test strips contain 50 strips per bottle. Water test strip for Total Chlorine, Free Chlorine, Total Hardness, Total Alkalinity, and pH all on one strip.
Just dip the strip into the water sample, shake and match the colour to get results. There are 5 different tests per strip. AquaChek 5-in-1 test strips are designed to meet the unique needs presented by the higher water temperatures in Spas. Aquachek Select 5-in-1 Test Strips provide comprehensive testing ensuring both clean and healthy water and protection against damage from ph fluctuations and scale formation.
Features:
Sold only by the bottle
Water test strip tests for Total Chlorine, Free Chlorine, Total Hardness, Total Alkalinity, and pH
ACC-541604A