Atom EMV Inground Pool Light
Pool Lighting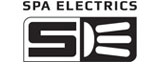 Atom EMV Inground Pool Lights Modernize Your Backyard!
The Atom EMV Inground Pool Light will be the perfect addition to complete your inground or onground pool. This elegant light features a recessed design that protrudes only 34mm into your pool for minimal projection and a more seamless pool wall design. Compared to the traditional 100 watt halogen light, the Atom EMV Inground Pool Light uses roughly 90% less energy making it less harmful to the environment, and your wallet.
The patented detachable quick connect cable system allows for simple installation, service and winterization. The Atom operates with a standard wall switch, a handheld remote or can be integrated seamlessly with all pool automation systems.
Features:
High quality multicoloured LED light bulb
High Intensity Ceramic Light Engine (LED) Technology
100ft Cable
Voltage: 12V AC
ATOM comes with 7 colours, a true bright white, and 4 colour shows
Available for Concrete, Vinyl, and Fibreglass
3 Year Warranty
Fully UL Listed
DuoSink and PulseWave technologies provide maximum brightness with an output of 900 lumens
Sale Price
$436.89
Regular Price - $513.99
LGT-EMVL12C3CMPL