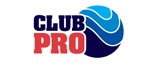 Clarifier 1 L Leaves Your Pool Sparkling Clean & Clear!
Club Pro Clarifier 1 L assists in removing un-filterable particles, leaving your pool water sparkling clear. Clarifier 1 L makes it easy to maintain and care for your pool.
This solution works to clarify your pool water and eliminate build-up to keep your water sparkling clean and clear. This solution is quick and easy to use!
Features:
Restores water clarity
No pH adjustment