Complete Pool Chemical Test Kit
Water Testing
The Complete Pool Chemical Test Kit Will Give You A Clean, Sparkling Pool!
The Complete Pool Chemical Test Kit is for testing both Chlorine and pH, and is meant for use in pools and spas. The best way to keep your pool crystal clear this summer is to monitor the chemical levels in the water. Utilizing this complete easy-to-use test kit will ensure both the chlorine and pH levels are in balance. In a matter of minutes you can understand a lot about your water that will certainly make for a safe and happy swimming experience.
We invite you to visit or contact your local Pioneer Family Pools location where a customer service representative will be happy to aid you with any questions or concerns you may have regarding your Pool Chemical Test Kit. This handy kit comes with everything you will need to know about your pool water.
This liquid solution test kit provides everything you need in one convenient system to keep your water balanced and thoroughly monitored at all times. The kit includes a detailed and easy-to-follow instructions to guide you through the process along with reagents and two convenient plastic testing receptacles to make testing your pool chemicals as easy as possible.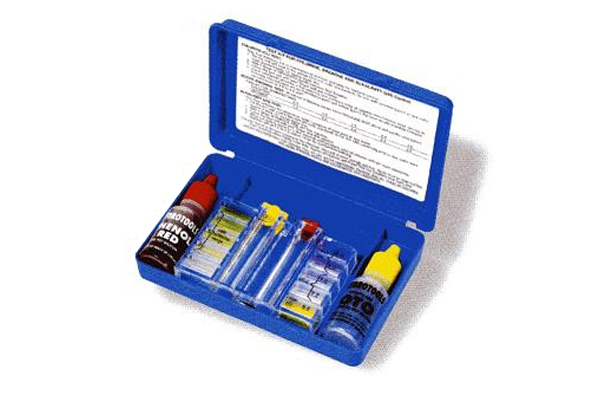 ACC-075290BP