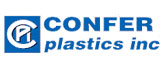 The Confer Handi-Spa Pad Is An Easy Way To Create A Sturdy Spa Pad!
The Confer Handi-Spa Pad is a faster, cheaper alternative to concrete pads and wooden decks. Each pad measures 32″ x 48″ x 2″ and purchasing 6 of the modular pads would connect together to make an 8 ft. x 8 ft. area; which is more than sufficient for most hot tubs. The spa pads go together in minutes! Simply place the pads where you want them, lock them together with the built-in connectors and you're ready to go.
The Handi-Spa Pad is constructed of durable, weather-proof, high-density polyethylene. The underside of the Handi-Spa Pad is formed with built-in strength pockets. It has been tested to withstand 300 lbs. of pressure per square foot. These pads are very versatile as well and can be used in many outdoor applications such as underneath pool filter equipment (although not under gas heaters), beneath plastic storage sheds, under trash cans and inside the garage. Enjoy your new hot tub or spa sooner with hassle-free peace of mind thanks to the Confer Handi-Spa Pads!
Features:
Protect the underside of your hot tub or spa and speed up installation with these durable base pad mats
Each mat measures 32 in. x 48 in., 6 pads create an 8 ft. x 8 ft. pad
Have a durable cushion between rough-surfaced wood decks and concrete pads or create a new foundation wherever you want
Pads quickly lock together with built-in connectors for greater strength and reduced shifting
Product Specifications:
Durable pad for spa placement
Speeds installation
Eliminates need to pour concrete
Pads lock together with built-in connectors
Six pads will form an 8′ x 8′ pad
1 year full replacement warranty
Add additional pads as needed to increase overall pad size
Please note that each Confer Handi-Spa Pad measures at 32″ x 48″. Customers must purchase 6 pads total to form an 8′ x 8′ pad. The price reflects the cost of one pad.