Confer Roll Guard A-Frame Ladder
Steps and Ladders
Choose The Roll Guard-A-Frame Ladder For Guaranteed Safety!
With the Roll Guard A-Frame Ladder you'll find safety, and peace of mind along with easy installation and a pleasing design. The beautiful grey colour blends nicely with almost any pool wall and liner pattern to provide a seamless transition from the exterior to the interior of your pool. The curved top rails provide that extra peace of mind, as well as a smooth design that makes you want to get in! The one feature that sets the Roll Guard apart from other ladders is the Lockable Roll Guard Barrier that allows you to cover the steps with a flat plastic barrier that prevents entry into the pool using the ladder (lock included).
Features:
5″ x 18″ treads
Adjusts to fit pools 48″ – 56″ in height
Height: 80″
Width: 18″
6 steps
Capacity: 300 lbs.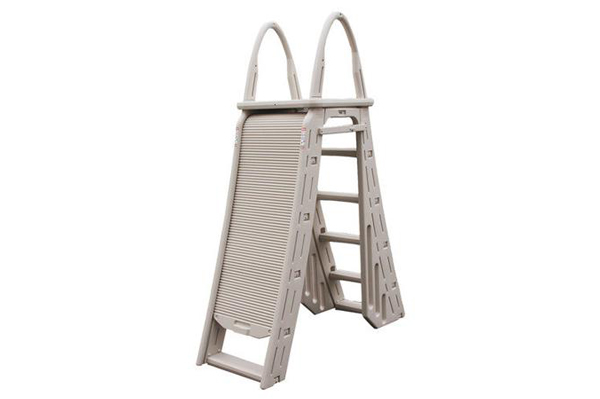 LDR-7200