Cover Cradle II
Hot Tub Cover Lifters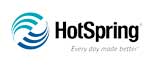 Having Trouble Uncovering Your Hot Tub? Look No Further…
The Cover Cradle II is the second generation of this innovative system! Using the same revolutionary pneumatic action as the original Cover Cradle, this model simplifies the operation to a single pneumatic gas spring. This provides smoother operations when opening or closing your cover. The lifter attaches to the OEM spa cover on both sides, as well as the rear of the cover to "cradle" it while in the open position. This spa lifter makes for uncovering your spa so simple, and with little manual effort.
Features:
One pneumatic gas spring for smooth operation
Requires 24" clearance
Low-profile design
Secure and visually beautiful
For use on Hot Spring Spas
** Prices reflect in-store pick up only. Taxes extra.