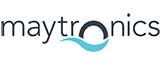 Get An Advanced Clean Every Time With The Maytronics Dolphin T45 Vacuum!
The Maytronics Dolphin T45 Robotic Pool Cleaner's advanced features offer exceptional convenience and reliability. The Maytronics Dolphin T45's options include regular cleaning mode for a full clean in two hours or quick mode for efficient cleaning in half the time.
The Dolphin's patent-pending PowerStream mobility system creates a multi-directional water flow, which enables a constant grip on vertical surfaces. This not only ensures that your pool walls and waterline are effectively cleaned, it improves navigation. Advanced scanning technology ensures complete cleaning coverage of floors, walls, and waterline. The Dolphin T45 has a light-weight design for easy lifting, handling and storage. Pool owners will also enjoy the clog-free, easy-clean filtration system; simply remove the filter basket, rinse and reload.
With the easy-to-use MyDolphin app you can register your Dolphin robotic pool cleaner online and control it remotely. On full-featured Dolphin models, pool owners can use this app to activate cleaning programs, activate the weekly timer and more.
Product Specifications:
Cleaning coverage: floors, walls & waterline
Automated weekly timer
Caddy included
Weight: 16.5 lbs
ATC-99996241WIN
** Prices reflect in-store pick up only. Taxes extra.