Eco Star Variable Speed Pump
Inground Pool Pumps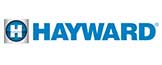 Go Green With Hayward's Eco Star Variable Speed Pump!
The Hayward Eco Star Variable Speed Pump is the most efficient pump. At any speed this pump can save pool owners up to 90% on energy costs over a single-speed pump. Eco Star matches pump flow to a pool's needs. Instead of running at full power 100% of the time, it is suitable for both new construction and the aftermarket.
Traditional pumps run at the same speed, which over time will burn the pump out faster. A variable speed pump will run at a slower speed when it is not needed and adjust to a higher speed when vacuuming or helping to disperse chemicals. Overall this will help save you time and money.
Features:
Super-efficient permanent magnet, totally enclosed fan cooled (TEFC) motor, and industry leading hydraulic design
Service mode allows technicians to clean pools quicker
Title 20 compliant pump
Multi-position interface can be repositioned so it's accessible from any direction, or it can be mounted to the wall
Suitable for any size inground pool, or pool/spa combinations
Ideal for water features
Fully programmable with a self-contained 24-hour clock and up to 8 custom speed and timer functions
Can be controlled by Hayward or third party pool and spa control platforms, without the need for additional accessories
Sale Price
$1449
Regular Price - $1649
PMP-SP3400VSP
** Prices reflect in-store pick up only. Taxes extra.