EZ Flo Pump
Inground Pool Pumps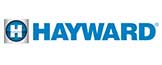 Hayward's EZ Flo Pump Has Versatile & Efficient Performance Qualities!
The EZ Flo Pump designed by Hayward, is built with quality. It is engineered to provide you and your family many years of efficient, dependable, and corrosion free service and performance. Perfect for new pools and/or aftermarket installations, the Hayward EZ Flo is a reliable pool pump that offers high performance capabilities. It is an upgrade and step-up for medium head pumps. Full flow hydraulics allow greater flow at a lower cost of operation. The EZ Flo features a heavy duty, self priming, high performance motor. With airflow ventilation the performance is a much quieter, cooler operation. This pumps 155 cubic inch strainer basket is the largest strainer basket in the industry; it dramatically extends the operation time between cleanings. A uni-bracket mounting base provides stable, stress free support throughout the life of the pump.
The advanced design reduces operation and maintenance to simple and easy procedures. The EZ Flo pump features the versatility and capability for any installation. By being adaptable to both 48 and 56 frame motors and allowing faster service access, through removal of 4 bolts to access the pumps impeller.
Features:
Efficient, Dependable, and Corrosion Free Service/ Performance
A Reliable Pump with high-quality performance capabilities
Full Flow Hydraulics
Heavy-duty, self-priming, high-performance motor
Airflow Ventilation, creating a quieter and cooler operation
155 Cubic inch Strainer basket; Largest in the industry
Uni-bracket mountain base; stable, stress-free support
Available Sizes:
Sale Price
$499
Regular Price - $559
PMP-SP3105X7A