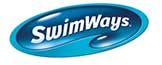 You'll Have Fun Diving & Swimming After Your Fish Styx!
Make deep-sea diving a pool activity with the Fish Styx pool toys. The Swimways Fish Styx Dive Toy explores pool depths with colourful, lifelike movement to inspire the imagination and get swimmers swimming underwater.
SwimWays Fish Styx dive toys wiggle and jiggle to the bottom of the pool! These soft, flexible fish toys help for those learning to swim or who want to play a fun diving game. Wait for the Fish to sink and then dive down to retrieve, or chase them before they land on the bottom of the pool. This game is a fun way to practice underwater swimming skills. Three colourful fish come in every pack – great for swim classes and sharing with friends.
Features:
Flexible dive sticks that wiggle and jiggle as they sink
Recommend for for ages 5 and up
3 colours
Comes in a pack of 3