Flotomax Mat
Toys & Floats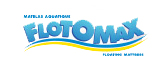 If You're Looking For A Fun, Easy To Use Pool Float Choose The Flotomax Pool Mat!
This two tone blue and yellow float offers one incredible feature that most other floats can't, it's nearly unsinkable! This incredibly comfort mat features a highly durable vinyl material on the exterior and is filled with a foam material that makes it nearly unsinkable.
Fun comes easy with the 40" x 72″ Flotomax Mat that can be enjoyed by anyone. No more inflating or repairs, just casual floats all summer long.
Features:
Measures 40″ x 72″
Two-tone colour
Ten layers of thick foam
Supports up to 250 lbs
Unsinkable
Premium vinyl forms the envelope
Envelope filled with thousands of air bubbles for flotation
Unparalleled and unsurpassed comfort
Product Specifications:
102 x 183 cm (40 x 72 inches')
TOY-MF4072