Gigantic Bouncing Burger Ball
Toys & Floats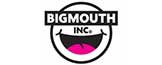 You'll Want To Take A Bite Out Of The Gigantic Bouncing Burger Ball!
Perfect for bringing along to your next fun beach trip, the Gigantic Bouncing Burger Ball makes an excellent sunny day companion. Made out of durable material that can stand up to long summer days, you'll love having this inflatable hamburger for your next watery adventure. Just make sure not to take a bite out of it!
Features:
Over 3′ wide
Patch kit included
TOY-BM1706
** Prices reflect in-store pick up only. Taxes extra.