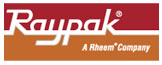 The Above Ground Propane Gas Pool Heater By Raypak Is A Top Choice!
The Raypak Above Ground Propane Gas Pool Heater is the perfect choice for larger above-ground pools, spas and inground pools. The 156 has up to 50 more BTUs than competitor above ground pool heaters. More BTUs means quicker, longer-lasting heat-up. With this heater, you can extend your swimming season, open your pool earlier and close it later.
The Raypak has a polyester-coated, non-corrosive cabinet that is more durable than solvent-borne and waterborne-coated metal cabinets. The Raypak's undercarriage is made from galvanized metal, which offers superior rust prevention and years of durable service. This heater is designed to draft naturally in outdoor installations with its exclusive low-profile design. No fans are necessary to combat drafting problems under normal conditions. The Raypak delivers uninterrupted heating performance regardless of falling leaves, wind, airborne debris, rain, downdrafts, updrafts, sleet, snow, etc.
The Above Ground Propane Gas Pool Heater has polymer heads that prevent rust stains from harming your pool or spas surface; giving you years of trouble-free swimming pleasure. The fin tubes of the heat exchanger are each made from a single piece of extruded copper. This design allows maximum heat transfer to be attained and maintained. Thick stainless steel tube sheets for robust construction and rust free operation. This control handles all the safety functions of the heater and the electronic ignition and flame supervision. The electronic ignition system requires external power (120VAC or 240VAC) and generates a pilot only when there is a call for heat.
Features:
PolyTuf textured powder coating
Wind-resistant design
Polymer headers
All-copper fin tube heat exchanger
Controls are available with Raypak's propriety AFT digital control
State of the art diagnostic reporting and fault recording
IMPORTANT NOTES:
Your heater must be installed by a Licensed Gas Technician in order to be eligible for Warranty
You will need to buy the same size heater as the one you already have, or smaller! Failing to do so can result in your plumbing and gas lines not working properly
Please consider your concrete pad size! Many heaters get bigger with a larger BTU size, therefore, your concrete pad will need to be bigger and your plumbing requirements will change
This model is supported by a 1 year warranty.