H-Series Above Ground Propane Heaters
Propane Heaters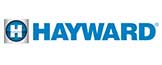 Hayward's Natural Gas Heater is Reliable & Feasible!
The Hayward Natural Gas heater for above ground pools and spas combines reliable technology with ease of operation for superior performance. Featuring an electronic, direct spark ignition system and an energy-efficient FireTile® line combustion chamber, the Hayward heater provides quick heating. An integral induced draft system makes this heater impervious to high wind situations. A one-piece copper header/ heat exchanger provides for leak-free performance. And a simple plug-in 120 volt electric cord is provided for simple installation.
Features:
Available in either natural gas or propane
Reduced emissions design provides environment- friendly heating
Jet-ported stainless steel burners provide long life and easy maintenance
Cool-to-the-touch cabinet surface temperatures ensures worry-free use
Convenient On/Off switch to maintain consistent temperatures set point
Available Sizes:
| Code | Size | Reg Price | Sale Price |
| --- | --- | --- | --- |
| HTR-H100IDP1 | 100 000 | $1439 | $1169 |
| HTR-H135ID1P | 135 000 | $1739 | $1439 |
** Prices reflect in-store pick up only. Taxes extra.