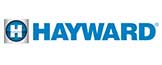 Hayward's Aqua Rite Is The World's #1 Salt Generator Today!
The Hayward Aqua Rite is a professional-grade Inground Salt Chlorinator, taking salt chlorination and chemistry management to new levels. This integrated solution automatically senses chlorine and pH levels. It dispenses a self-renewing supply of pure chlorine while controlling the pH.
Hayward's Aqua Rite Salt Chlorinator is the convenient alternative, to conventional chlorine. Your pool will have the very best soft, silky water, causing no more red eyes, itchy skin, or harsh odours. It's remarkably convenient, too, automatically delivering chlorine for the ultimate swimming experience. Aqua Rite is independently certified by the National Sanitation Foundation. Providing the industry's best warranty support plus 50% or more savings over conventional chlorine. No wonder it's the World's #1 salt chlorinator today.
Features:
Converts salt into chlorine to kill algae and bacteria
Chlorine will revert back to sodium chloride after killing bacteria
Will only need to add more salt due to backwashing, draining, or excessive splashing
Available Sizes:
For pools up to 40,000 gallons (150,000 litres)
T-Cell 15: for pools up to 40,000 gallons
T-Cell 9: for pools up to 25,000 gallons
T-Cell 3: for pools up to 15,000 gallons
Cabana Club Members receive Special Discounts.
Not a Member? Sign up here.


Sale Price
$1369
Regular Price - $1539
ATC-AQR9CUL
** Prices reflect in-store pick up only. Taxes extra.