Hayward Super Pump
Inground Pool Pumps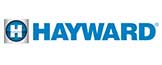 The Hayward Super Pump Is An Efficient, Dependable, Proven Technology!
The Hayward Super Pump is the world's best selling pool pump because of its efficiency, and dependability. Hayward has set the standard for excellence and value. The Super Pump is the best all-around circulation pump that features a heavy-duty motor with quieter, cooler operation. The exclusive swing-away hand knobs make cleaning your strainer basket easier and faster. In the event you need to access the impeller, the quick 4 bolt access allows you to remove the protective shell and get where you need to go.
Efficient. Dependable. Proven. The Super Pump has all the quality features you expect from Hayward. Designed for inground pools and spas of all shapes and sizes, the Super Pump features a large see-through strainer cover, a super-size debris basket, and an exclusive service-ease design for extra convenience. The Super Pump combines proven performance with quiet, efficient and dependable operation.
Features:
Heavy-duty, high-performance motor with air-flow ventilation for quieter, cooler operation
Exclusive swing-away hand knobs for easier strainer cover removal: no tools required, no loose parts, no clamps
See-through strainer cover lets you see when the basket needs to be cleaned
Special self-adjusting seal ensures dependable sealing
110-cubic-inch basket has extra leaf-holding capacity; load-extender ribbing ensures free-flowing operation
Service-ease design gives simple access to all internal parts
Self-priming (suction lift up to 10-feet above water level)
Heat-resistant, industrial-size ceramic seal is long-wearing and drip proof
Mounting base provides stable, stress-free support, plus versatility for any installation requirement; adapts 48- and 56-frame motors
Available Sizes:
1/2 HP
3/4 HP
1 HP
1 1/2 HP
2 HP
2 1/2 HP
1 HP (2 Speed)
1 1/2 (2 Speed)
Sale Price
$499
Regular Price - $569
PMP-SP2607X10A