HTH Wall Brush
Wall Brushes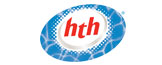 The HTH Pool Wall Brush Will Keep Your Pool Walls Shiny & Clean!
The HTH Pool Wall Brush is designed to clean all pool walls and surfaces. It's curved design allows for ease of use and proper, deep cleaning. In addition, the Wall Brush has a reinforced aluminum frame for extra durability.
The HTH Pool Wall Brush contains up to 49% post-industrial recycled material.
Product Specifications:
Dimensions- 6.42″ x 11.92″ x 16.58″
Materials- Plastic
ACC-4098
** Prices reflect in-store pick up only. Taxes extra.