Inground Solar Guard
Solar Covers and Reels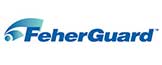 A Quick, Convenient System Helping To Make Your Summer Hassle Free!
The Feherguard Solar Guard Inground Solar Reel is available in 18′ 6″ or 20′ 6″ mil. The wheel reel system features large 20″ (51 cm) wheels that easily roll over virtually any surface. These specially designed wheels make moving the reel system away from the pool effortless. Each end is fitted with a handle so winding the solar blanket may be done from either side of the pool. Rolls on any surface thanks to the large and durable wheels. Wide track bearings provide easy blanket handling so there's no more stress when it's time to roll the cover on or off.
Quality is a major focus at Feherguard. From their patented Rib-Locking Tube System, to their rarely used 'No Hassle' Warranty, they strive to provide their customers with simply one thing: 'A Reel System that Exceeds Expectations.'
Features:
High-quality commercial grade structural aluminum
Large 20″ inch wide wheels designed to roll over any uneven terrain
Large wheels also make for easy roll-away storage
Heavy-duty maintenance free resin construction
Engineered with pinch roller beginnings for smooth, effortless roll up
Crank handle on both ends; convenient one or two-person operation
Includes two sturdy foot pads for stationary operation
Solar Reel attachment kit included
Solar Blanket is sold separately
| Code | Size | Reg Price | Sale Price |
| --- | --- | --- | --- |
| ACC-FGSG18 | 18' 6" | $250 | $225 |
| ACC-FGSG20 | 20' 6" | $280 | $250 |
** Prices reflect in-store pick up only. Taxes extra.