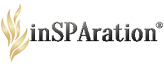 Your Senses Will Be Inspired From InSPAration Scents!
InSPAration has been manufacturing fragrances for over 40 years. Their unique aromatherapy blends are formulated for your hot water enjoyment, creating a rich soothing "aromatherapy experience". InSPAration's aromatherapy and fragrance blends create that ultimate spa experience while at the same time leaving your skin soft and moisturized.
Tested by Dupont, Aristech and other leading acrylic manufacturers, InSPAration is proven to be safe for all spa, hot tub and bath surfaces and are ideal for masking those unwanted chemical odours without foaming, affecting PH Level, or water chemistry. This line of spa scents has been formulated specially for jetted systems and has been proven safe for all motors, jets and acrylics.
InSPAration Scents contain no alcohol and are water-soluble. InSPAration's custom blended Fragrances come packaged in 9oz. bottles and offer beautiful fragrances.