Maytronics Encore Robotic Vacuum
Robotic Vacuums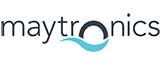 Maytronics Encore Robotic Vacuums Intelligently Navigate To Clean Pools!
The Maytronics Encore Robotic Vacuum runs a complete cleaning cycle in 2 hours time; it will climb walls and scrub the walls and floor of your swimming pool with ease. At only 13.8 lbs, the ergonomic design and lift handle make it easy for you to pull the vacuum out of the water. The collection basket is hidden under the lid, simply open the lid to expose the collection basket. Lift out and rinse after each use for best performance. Equipped with an intelligent Navigation system, the Dolphin Encore can remain underwater, having a clear view of all obstacles, easily maneuvering around them. This feature keeps your system free from becoming trapped as it cleans.
This model is supported by a 2 year warranty.
Features:
Active brush technology for surface cleaning
Swift, energy-efficient 2 hour cleaning cycles
Ideal for Inground pools up to 35ft. long
Easy-clean large capacity net baskets
Weight- 13.8 lbs
One-button operation
Sale Price
$799
Regular Price - $1099
ATC-99996155US
** Prices reflect in-store pick up only. Taxes extra.