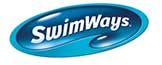 Train With Your Favourite Characters Thanks To The Nickelodeon Kickboard!
The Nickelodeon Kickboard by SwimWays brings fun, familiar faces into your backyard! These full-sized kid's kickboards make for great practice and swim training; your young one's can hold onto the soft-fabric covered board, and kick! The kickboards are made with sturdy, buoyant foam that ensures that the kickboard will not sink, but float, for practicality and feasibility.
Featuring vivid, high-intensity graphics on the entire top side of the board, with your favourite Nickelodeon Characters, the Nickelodeon Kickboard is great for everyday fun in the pool, or for encouraging new swimmers during their fundamental learning stages.
Features:
Full-sized
Vivid Graphics of favourite Nickelodeon characters
Materials – Soft nylon fabric covering kickboard
Made with sturdy, buoyant foam
Best used for practice kicking and other swim training techniques
Kickboard floats and will not sink
Dimensions- 17.25″  x 11″ x 1.5″
Recommended for Ages 5+
TOY-6044617
** Prices reflect in-store pick up only. Taxes extra.