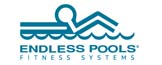 The Swim Spa Pace Display Will Make A Difference In Your Workouts!
The Swim Spa Pace Display can be placed wherever it is convenient and visible to the swimmer. It is weather resistant, though reliability is enhanced if it is placed in a somewhat protected location free from frequent or heavy rainfall.
The large, bright LED characters and non-glare face are well suited for use in direct sunlight, but visibility is improved when the unit is mounted in shade. The display brightness can be reduced for indoor use. The display unit should be mounted near the pool where it is easily visible while swimming. The Velcro mounting tape allows you to attach the unit to virtually any surface.
The Pace Display gets its signal and power through a standard phone cord from the controller. Make sure your mounting location allows you to route the phone cord easily from the controller. Additional 4- conductor phone cord and coupling connectors may be purchased at any electronics supply store if more length is needed.
The model of Fastlane can be found on the main power unit inside the electrical cabinet.
Features:
14" of Velcro tape
50' of phone cord
Water-tight enclosure fitting
Reducing bushing