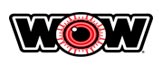 The WOW Pong Table Lets You Play Ping Pong On Your Favourite Body Of Water!
WOW Pong is not only a drinking game, but kids and adults alike can enjoy it as a game of skill on the water. Test your shooting skills by trying to sink a pong ball in each of your team's 10 cups before the other side does and you win! The WOW Pong game table comes with WOW's House Rules included to explain how to play; or just make the rules up as you go!
The WOW Pong Table is made of heavy-duty PVC and has 4 extra cup holders on each side of the table, and as well as 4 grommets for tying off. When you're not using it as a Pong Table, just flip it over and it can be used as a lounge or water mat.
Please note that ping pong balls are not included.
Features:
10 cup holders on each side
8 additional cup holders along the side
Durable transparent orange heavy-gauge PVC construction
4 moulded grommets for tie points or to keep floating coolers nearby
Perfect for pool parties or cottage dips
Maximum capacity: 220 lbs
ACC-152020