RayPak 105K BTU Propane ABG Pool Heater
Propane Heaters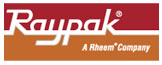 The 105K BTU Aboveground Pool Heater Gives You An Early Start To Pool Season!
The RayPak 105K BTU ABG Pool Heater (106A) available in Natural Gas or Propane and is the perfect choice for above ground pools. Raypak is the only manufacturer of this size heater to use all of the engineering and components utilized in their bigger gas heaters. The unit is fully serviceable and built for years of operation. This may be our smallest pool and spa heater, but it is built to the same standards as the rest of our products.
This RaypPak Heater is finished with PolyTurf Textured Powder Coating for durable wear, season after season. The wind resistant design helps to naturally draft wind flow and provide uninterrupted performance regardless of leaves falling, wind, or debris in the air. The Polymer Headers prevent rust stains from harming your pool or spa's surface, giving you years of trouble-free swimming pleasure. Extend your swim season by opening your pool earlier and closing it later. Your pool is always ready when you have a Raypak on duty.
This model is supported by a 1 Year Warranty.
Features:
All-Copper-Fin-Tube Heat Exchanger – Made from a single piece of extruded copper the integral-fin design allows maximum heat transfer to be attained and maintained. Raypak also uses thick stainless steel tube sheets for robust construction and rust free operation.
Controls – The 106 is available standard with an easy to use analog control dial. The electronic ignition system requires external power (120VAC or 240VAC) and generates a pilot only when there is a call for heat. Units come with a 3 foot, 3 prong power cord.
Automatic Bypass – The Raypak 106 comes standard with a built in water bypass so it can handle different GPM's without having to adjust your flow rates manually and also helps keep a constant engineered flow through the tubes to help reduce condensation caused by cold water.
Burner Tray – Built from stainless steel, the design of the burner deck to the aluminized metals used in the heat sensitive areas allows for the easy removal of the tray for servicing.
Fire Tile – A ceramic fiber combustion box keeps your heater running efficiently while keeping the outside jacket cool. By using this space-age material the heater won't retain residual heat after it is turned off, allowing it to be installed without the use of costly metal heat sinks.
Fuel-Efficient – Energy-smart Raypak heaters consistently achieve the highest efficiency ratings. They meet or exceed all federal and state standards.
Connections – 2" Water Connections, Supplied with every Raypak 106 heater is a set of 2″ flange connections to make your installation secure and effortless.
HTR-PR106AAPC