Skimmer Plug
Pool Closing Products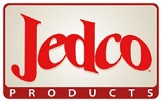 The Jedco Skimmer Plug Will Outlast Harsh Winters!
The Jedco Skimmer Plug offers a simple yet revolutionary method for servicing and winterizing above ground pool skimmers. A first of its kind, the Skimmer Plug is superior to any other skimmer closure or winterizing device on the market; being more affordable and as well as easier to use. The Skimmer Plug fits all OEM skimmers, without the need to replace the original skimmer faceplate. With no installation or tools required, the product securely fits into the skimmer opening using an exclusive 0.75 inch thick Rovaseal thermo insulated layer; which plugs and grips the faceplate creating a 100% air and water-tight seal.
Ice is no match for the Skimmer Plug's rigid outer plate, providing a durable and secure layer of protection through the winter. The Skimmer Plug is also UV and chemical resistant! This 11 1/2″ x 5 3/16″ model fits most standard 12″ above ground wide mouth skimmers, including the following models:
Hayward SP1090WM
OceanBlue Widemouth
Olympic / Vogue
ACC-AGWMH
** Prices reflect in-store pick up only. Taxes extra.