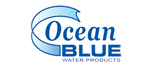 The Smart Time From Ocean Blue Makes Pool Maintenance Easier!
The Smart Timer from Ocean Blue is simple to program and operate! With 48 on/off positions with a 15 minute minimum setting time, and 24 hour maximum setting time, it can be used indoors or outdoors. It includes a 3 foot long power cord with on/off switch and grounding pin, and a 24 hour AM/PM display.
The Smart Timer also comes with a transparent UV protection cover so you can see it's current settings without opening it!