TigerShark Vacuum with Remote
Robotic Vacuums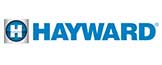 TigerShark Vacuums Are Equipped With Easy-To-Use Remotes!
The Hayward TigerShark vacuum with remote is an industry favourite that's easy to operate and energy efficient. Save up to 94% on energy costs with TigerShark Robotic Cleaners, and don't worry about running it for too long with its handy auto shut-off feature that powers down after the 2-hour cleaning cycle. Our energy-efficient TigerShark uses less energy vs. most industry pressure cleaners and has been selling worldwide for 40 years. Its efficient cleaning pattern covers the entire pool, including the bottom, sides and all the way to the tile line. Utilizing its on-board smart computer, it calculates the size of your pool for a programmed energy efficient cleaning pattern for a spotless clean pool every time. It also features an easy to clean reinforced cartridge element which means no more bags – yet another eco-friendly attribute.
Features:
Ideal for vinyl, concrete, or fiberglass inground pools
Easy to use and operate
Wireless remote
Automatic shut-off
No more bags!
Sale Price
$1449
Regular Price - $1869
ATC-RC9955CUB