Wall Clock Thermometer Combo
Pool Thermometers
Get Both The Temperature & Time With The Wall Clock Thermometer Combo!
The Wall Clock Thermometer Combo is the perfect combination to have both time and outdoor temperature in sight! The clocks features large, easy to read numbers with beautiful tropical designed backgrounds.Having a clock and thermometer out on the pool deck is quite handy.
Swimline's Hydro Tools Wall Clock and Thermometer Combo are especially designed for outdoor use and have water themed backgrounds to add to the pool deck ambience. The quartz analog clock is a three-hand clock movement. This thermometer provides temperature readings in Fahrenheit and Celsius from -60°F to 120°F (-50°C to 50°C).
Fahrenheit temperatures are in 20° increments and Celsius are in 10° increments. Both the clock and thermometer are large 12″ (30.5 cm) in diameter and have large easy to read numbers for great visibility from a distance. Add to the pool decks ambience with these great wall mount items.
Features:
12″ diameter
Quartz accuracy
Sweep second hand
Battery operated (batteries not included)
Fahrenheit and centigrade scales
3-hand clock movement
Analog thermometer
Fahrenheit and celsius for easy temperature readings
Large 12″ (30.5 cm) diameters
Easy to see from a distance
Clock styles vary by location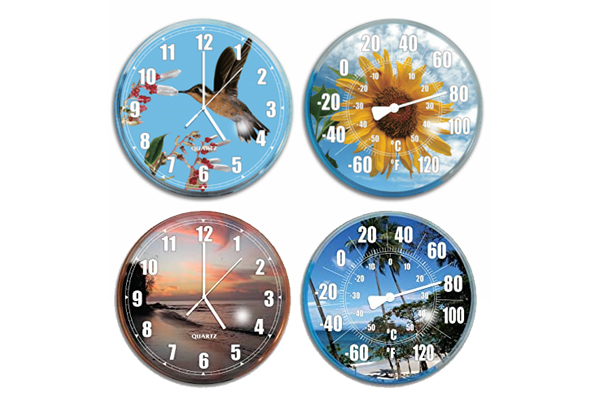 TOY-9260