Water Bags
Pool Closing Products
Water Bags Keep Your Winter Cover In Place!
Water bags are the quick and easy solution for keeping your winter cover in place this season. These convenient bags are filled with water using the red flip cap that pops open and closes shut with ease. Simply fill using your hose until they are full, close the cap, and place the water bags around the outer edge of your pool.
If you have a winter cover with loops around the outer edge, you can easily slip the water bag into these loops to help the cover in place. When you're ready to open your pool in the spring, simply open the cap and drain the water.
Available Sizes:
16 mil. 2' x 2' Single Corner Tube
16 mil. 1' x 1' A/G Hanging Tube W/ 2-Grommet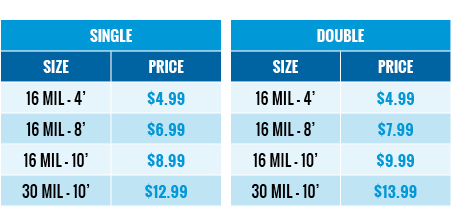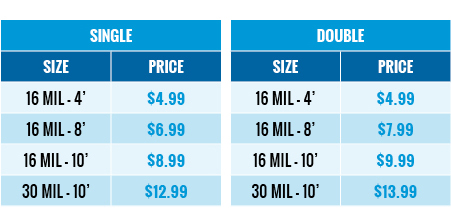 ACC-16DOUB10
** Prices reflect in-store pick up only. Taxes extra.