WOW Bouncer Floating Trampoline
Games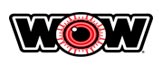 Check Out The 10ft WOW Bouncer Floating Trampoline!
The 70″ bounce area is great for getting some hang time, or for just spending some chill time, on the water. Like the name implies, the WOW Bouncer Floating Trampoline is a great item for the kids to have fun jumping around on but, it can also be used as a private island to relax on, or as a play center in the middle of your favourite body of water. The Floating Trampoline comes with an anchor system to keep it in place and a floating boarding platform to make it easy for kids and adults to climb up and down on.
Just like all WOW products, the WOW Bouncer was designed to withstand the environment it will be used in. This is why it was constructed with heavy duty special formula PVC to hold up to the hot summer sun.
Features:
Measures 120″ (10′) in diameter
Holds 1-2 people
Maximum capacity: 240 lbs
70″ bounce and landing platform
Safety pad between bounce platform and PVC body
Heavy duty special grade PVC
Moulded boarding handles
Large anchor bag to keep in place
ACC-152030