Aluna 11' x 11' Gazebo
If you're on a budget but still want to add style and comfort to your outdoor space, the Fiesta pergola is an excellent option. Composed of aluminum and steel, this durable pergola features a polyester roof that provides shade and shelter during the warmer months. With its Anthracite colour and modern design, the Fiesta pergola effortlessly combines functionality and aesthetics, making it a great addition to any backyard.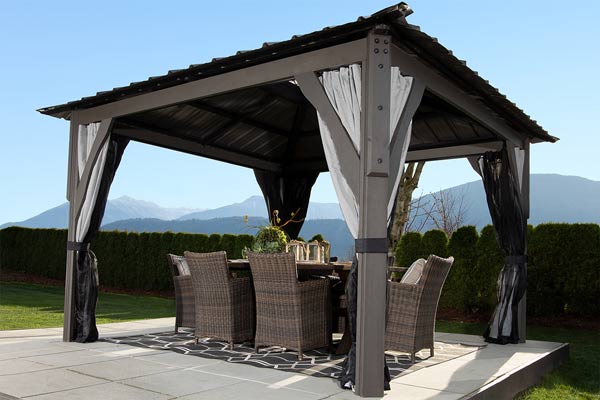 As you plan to make the most of this summer, don't forget to create a captivating outdoor oasis with a patio gazebo. The Napa, Villa Nueva, Palmera, Fiesta, Kelowna, and Aluna gazebos are among the best options available, each offering unique features and designs to suit your preferences. Whether you're hosting gatherings, seeking relaxation, or simply enjoying the beauty of your backyard, these gazebos will enhance your outdoor experience with their dramatic beauty.
When choosing a patio gazebo, consider factors such as size, style, durability, and functionality. Determine the purpose of your gazebo, whether it's for entertaining guests, creating a peaceful retreat, or adding a focal point to your outdoor space. Additionally, ensure that the materials used are of high quality and built to withstand various weather conditions.
Investing in a gazebo not only elevates the aesthetics of your outdoor area but also expands your living space and allows you to make the most of the summer season. Whether you're sipping a refreshing beverage, enjoying a meal with loved ones, or simply basking in the beauty of nature, a gazebo provides the perfect setting for unforgettable moments.
In conclusion, this summer, enhance your outdoor living space with a patio gazebo that combines functionality, durability, and dramatic beauty. The Napa, Villa Nueva, Palmera, Fiesta, Kelowna, and Aluna gazebos offer a range of options to suit your needs and preferences. Transform your backyard into a captivating oasis where you can relax, entertain, and create lasting memories with family and friends. Embrace the warmth of the sun, the gentle breeze, and the enchanting ambiance of your own outdoor sanctuary.
Choose the perfect gazebo that speaks to your style and enjoy the splendor of summer in the comfort and elegance of your own backyard. Let the dramatic beauty of these gazebos elevate your outdoor experience to new heights.
Happy summer and enjoy your time in your stunning patio gazebo!