How To Choose An Outdoor Dining Set
Advice - Patio
Our backyards are where we want to be during our short, but sweet, Canadian summers. Swimming in a pool, relaxing on chaise loungers or having a nice dinner with family and friends on an outdoor dining set are all cherished summertime activities. If you are looking to upgrade your outdoor living space, a new dining set will add to your overall available space, and secondly, it'll hold the promise of relaxation, entertainment, and overall enjoyment. Buying an outdoor dining set involves much of the same steps as buying indoor furniture, but there are some additional considerations as well.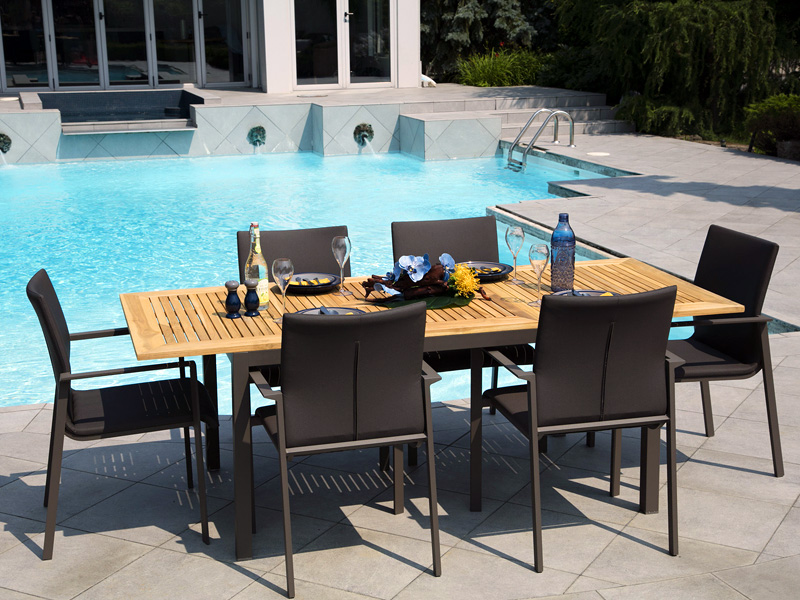 SIZE & SHAPE
It is important that your set works within your space. Size and shape is the first factor that you should consider. Our outdoor dining tables range from circles, squares and rectangles, to ovals. A dining table will be the focal point of your dining space, therefore shape plays an important function. Whether you enjoy close intimate meals on a circular table or you prefer to host dinner parties for your friends on a long, rectangular table. There is a table out there that is perfectly suited for your social needs.
Circle tables are great for smaller spaces as they allow you to gather close together; they are also great for a late-night card game! Square tables provide optimal surface area for dining. If you love entertaining and having guests over, a large rectangular, or extension table, may just be the perfect fit for you. Rectangular tables fit plenty of chairs and typically have room to spare. There is nothing worse than rubbing elbows with your neighbour while you are trying to eat!
You can never go wrong with having extra space if your yard allows it. Extension tables are growing in popularity every year. The option to enlarge your seating area at a moments notice is quite appealing to many of our patio buyers. Extension tables make it easy to transition from an intimate family dinner to a dinner party with friends.