How To Choose The Right Patio Umbrella For Your Space
Advice - Patio
There is nothing better than lounging in your backyard on a hot summer's day with a cold drink in your hand. Although it's wonderful to have fun under the sun, sometimes you need relaxation time in the shade.
If you're looking for a quick, shade solution for your backyard, please look no further than a Patio Umbrella. There is a lot to consider when selecting an umbrella for your outdoor space. Not only do you want a patio umbrella that will suit your backyard, you also want an umbrella that will be functional and shield you fully from the hot summer sun and UV rays.
This blog aims to provide a clearer picture on the different styles of Patio Umbrellas, what they will bring to your patio and their main functionalities.
 MARKET UMBRELLAS ARE A POPULAR GO-TO
Market Style Umbrellas are a considered a classic for good reason. Market Umbrellas can stand alone or, sit in the center of a patio table depending on the style and weight of the base being used to hold it in place. Table top umbrellas take up minimal space however, the pole in the center of the table can sometimes be a visual distraction.
A market style umbrella can be used with a free-standing base either pool side or between a pair of chaise loungers.
Polyester Market Umbrellas come in 7.5' and 9' and offer a push button tilt mechanism. They are very affordable and come in many different colours!
 Have You Heard About Treasure Garden?
Our Treasure Garden Market Umbrellas are made with 100% solution dyed fabrics and are fade-resistant. Made with either Sunbrella fabric or O'bravia fabric, both are high-end and durable. Sunbrella fabric offers a five-year fade guarantee, while O'bravia fabric offers a four-year fade guarantee.
Treasure Garden Market Umbrellas come in a variety of sizes such as: 9', 11' and 8' by 10'. These umbrellas also come with an automatic tilt feature to ease the work of tilting or straightening your market umbrella.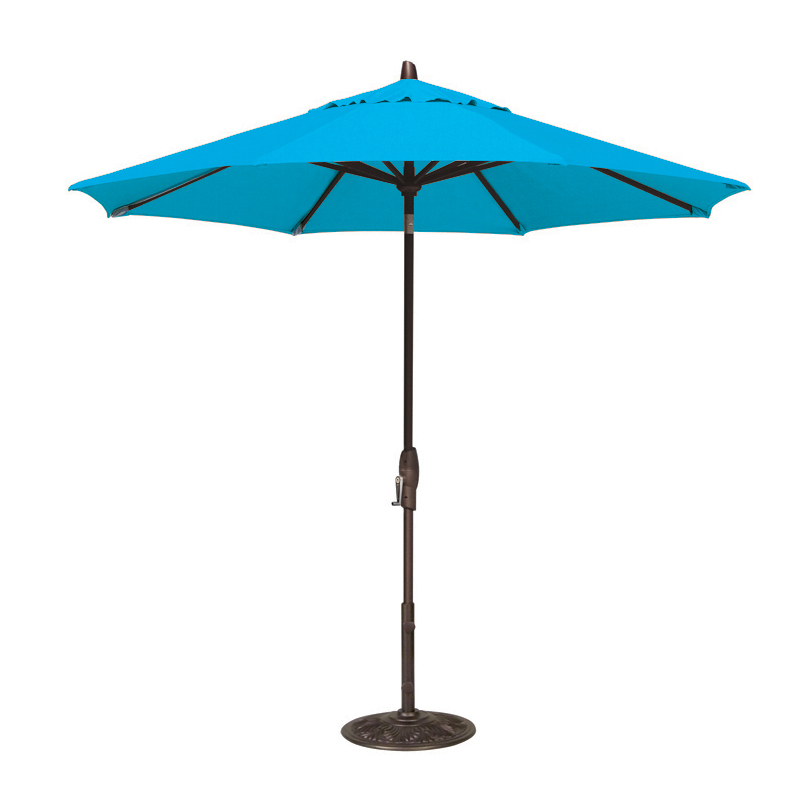 SUSPENSION UMBRELLAS OFFER PLENTY OF SHADE
Suspension Umbrellas, also known as cantilever or hanging umbrellas, are a fantastic source for creating outdoor shade without having a pole in the center of your space. These umbrellas are great over dining and deep seating areas.  As they are "off set", they are heavily utilized as spa or pool umbrellas as well.
Pioneer offers a 10' Poly Umbrella that has become quite popular with our patio customers.  There are a variety of shapes and sizes in our cantilever Treasure Garden collection such as: 8' square, 10' octagon, 13' octagon and 10' by 13' rectangle. These umbrellas cover large areas and provide plenty of shade.
 A Cantilever Gives You Maximum Coverage
The larger Treasure Garden Cantilever Umbrellas offer 360° rotation and multi-tilt positions, allowing you to adjust your umbrella to shield you from the sun if need be.  These features allow you to shade your area consistently as the sun's rays move throughout the day. Suspension Umbrellas allow coverage for multiple areas; which is why many of our customers go with this style of umbrella!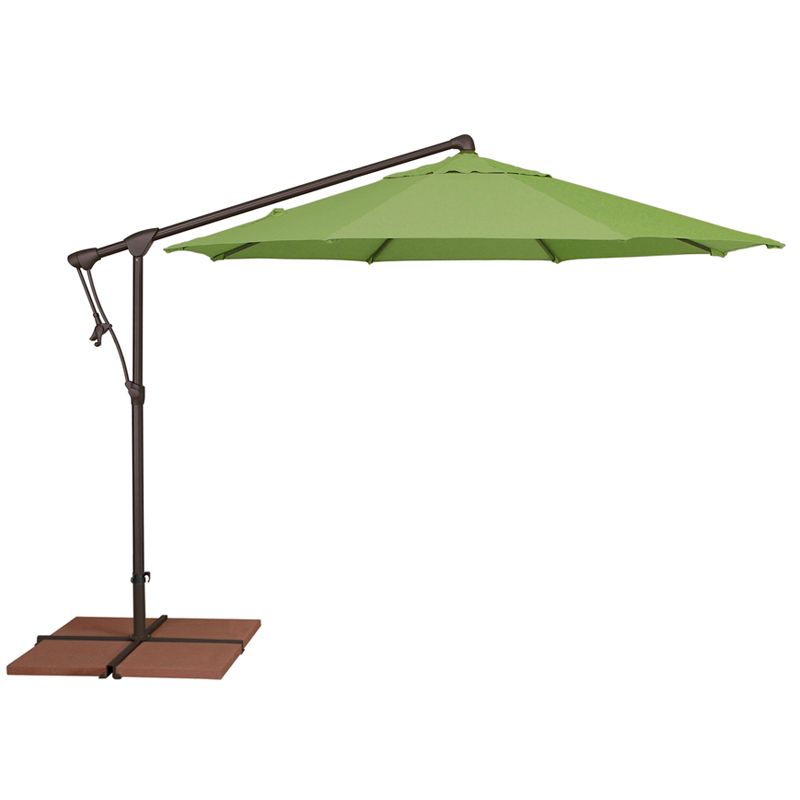 CONSIDER THE SIZE OF YOUR SPACE
The largest sized umbrella won't necessarily be the best option for you. We encourage our patio customers to really consider what size umbrella will suit their space.  Be sure to measure the area you'd like to cover before making a purchase.
 Measure, Measure, Measure
Consider the size and functionality of the umbrella and as well as keep in mind the surrounding area you will need to have room for the base, the maneuverability of the umbrella and the space for it to tilt.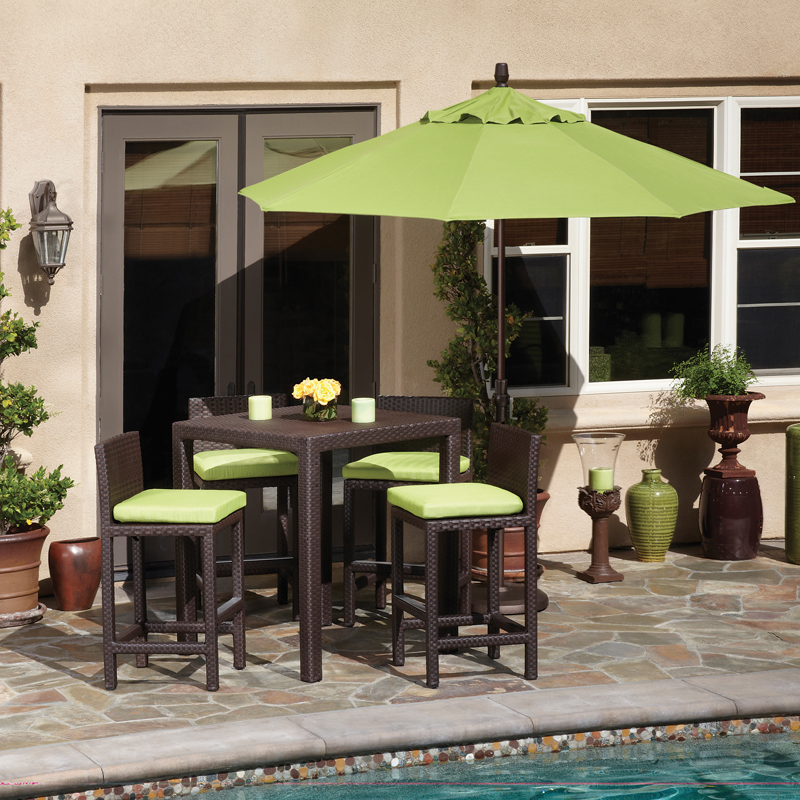 PROTECT YOUR INVESTMENT
Umbrellas are created with vents to help prevent wind damage to the fabric and frame. It is very important that when your umbrellas are not in use that they are collapsed, tied-closed and stored away.
 An Umbrella Cover Will Extend The Longevity Of Your Umbrella
We recommend purchasing an umbrella cover for umbrellas that cannot be stored away.  Covers provide weather and fade protection, and work to protect your investment; and extend the longevity of your umbrella!
 COLOUR IS KEY
Colour is a very important factor to consider. Do you want your umbrella to be light, dark, solid, striped or textured? Do you want your umbrella to stand out as a focal point in your outdoor living space, or blend in?  The colour of your umbrella will set the ambience and mood of your backyard oasis!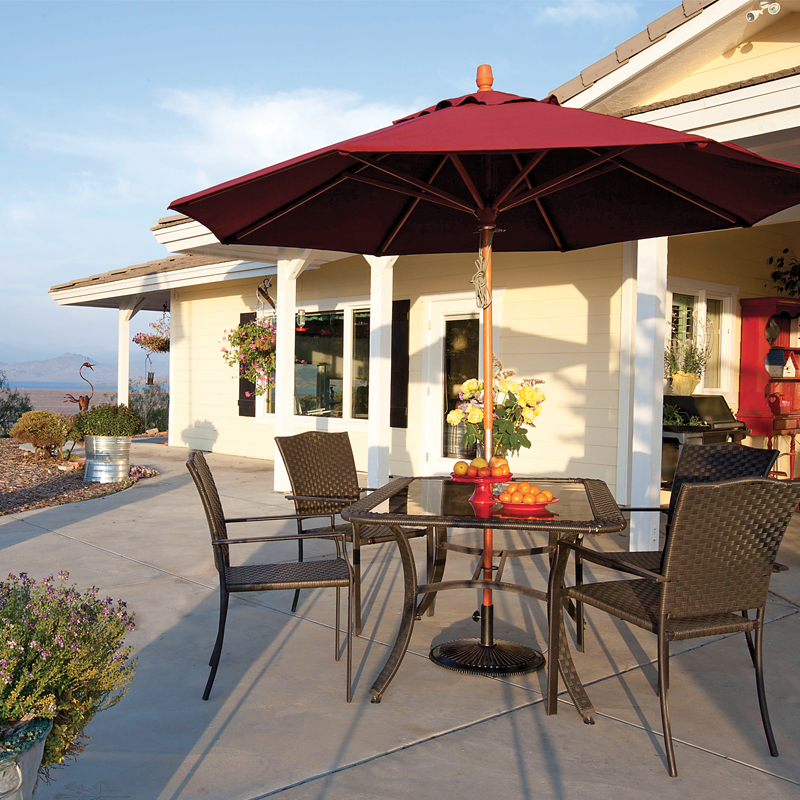 There are a few key factors to consider when choosing the perfect Patio Umbrella, but with our large variety, you are sure to find the perfect one!