Get the Most Out of Your Pool This Season with These Essential Upgrades
Lifestyle - Pools
As the swimming season approaches, it's time to ensure that your pool is ready for maximum enjoyment. Upgrading your pool equipment can significantly enhance its performance and efficiency, leading to a smoother and more enjoyable swimming experience. In this blog, we will explore some essential pool equipment upgrades that can help you get the most out of your pool this season.
Hayward Super Pump Inground 1-HP Pump: The Hayward Super Pump is a reliable and efficient choice for inground pools. With its heavy-duty motor and quieter, cooler operation, this pump offers excellent circulation and ensures a clean and refreshing pool. The exclusive swing-away hand knobs and easy access design make maintenance hassle-free. Its self-adjusting seal and large debris basket further contribute to its dependability. Upgrade to the Hayward Super Pump for enhanced performance and convenience.
Powerflo II Above Ground 1-HP Pump : For above-ground pools and hot tubs, the Hayward Powerflo II Pump is a top-notch option. With its self-priming capability and heavy-duty motor, it provides efficient and maintenance-free operation. The corrosion-proof housing and easy-to-use drain plug make it suitable for all weather conditions. If you have an above-ground pool or hot tub, consider upgrading to the Powerflo II Pump for reliable and quiet performance.
Exclusive Trade-In and Save Offers with Jandy
Trade-In and Trade-Up to Jandy JXi Heater: Upgrade your gas heater to the Jandy JXi Heater and enjoy quality and comfort throughout the swimming season. With unparalleled technology and energy efficiency, this heater keeps your pool at an optimal temperature. The AquaLink compatible Digital Interface allows easy control and monitoring. Make use of the trade-in offer to save on your upgrade and experience efficient and cost-effective heating.
Trade-In and Trade-Up to TruClear or Fusion Soft: If you have a salt chlorinator, consider trading it in for the Jandy Pro Series TruClear Salt System or Fusion Soft. These systems offer simple maintenance, high performance, and reliability. The TruClear Salt System can be controlled from your smartphone using the iAquaLink app, providing added convenience. Both systems are easy to install and service, ensuring hassle-free pool sanitation.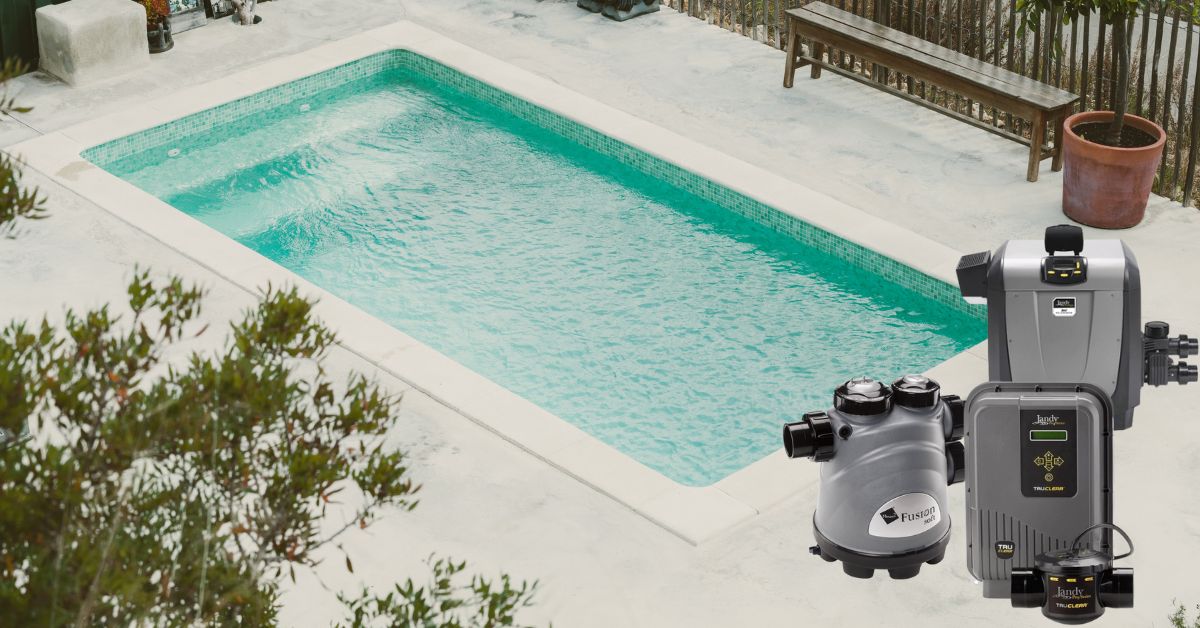 Get Ready for Swim Season and Save with Hayward
Hayward TriStar VS 900 Pump: Upgrade to the Hayward TriStar VS 900 Pump, one of the most energy-efficient variable-speed pumps available. This pump delivers significant energy savings, helping you reduce costs and pay for itself quickly. With a chemical-resistant Viton seal and a user-friendly digital control interface, the TriStar VS 900 Pump combines reliability with convenience. Take advantage of the rebate offer to save even more on this efficient pool pump.
Hayward AquaRite 900: For soft, silky, and perfectly sanitized water, consider the Hayward AquaRite 900. This system offers the ultimate pool experience with its easy operation and crystal-clear water. The Extended Life TurboCell ensures long-lasting performance, reducing chlorine costs. With smart pool control compatibility, you can have complete control and management of your pool. Don't miss out on the available consumer rebates to enjoy additional savings.
Upgrading your pool equipment is a smart investment that can enhance your swimming experience while reducing maintenance and operating costs. Whether it's a new pump, heater, or salt system, these upgrades offer improved performance, convenience, and energy efficiency. Take advantage of the exclusive trade-in and save offers and rebate opportunities to make the most out of your pool this season. Prepare your pool for a summer of fun and relaxation by investing in these essential upgrades.