Liquid Algaecide – The Truth
Advice - Pools
Liquid Algaecide is the #1 way to remove and protect your pool against Algae growth. One of the most common problems pool owners face is algae. This article goes over the basics of pool chemistry then shows how you can remove algae that is already in your pool. Finally it walks through the important steps needed to prevent algae from returning again.
GETTING RID OF ALGAE
Liquid Algaecide is a strong algae depressant used for the prevention of algae growth and the maintenance of sparkling water in pools. Algae growth is the main cause of "off" colours in your swimming pool water. Prevention is important, regulated use of liquid algaecide will keep your water clear and shiny. Please note that our liquid algaecides are compatible with alkalizing and flocculating agents used in other pool maintenance products.
Our Liquid Algaecides are patented formulas that not only work as preventatives but as a pool clarifiers that inhibit algae growth of all types. When included as part of your regular pool maintenance program, Liquid Algaecide acts as a form of insurance against the presence of algae and it's cost associated remedies. Liquid Algaecides keep your pool water clear and your wallets full.
ALGAE TREATMENT – 4 DAYS TO SPARKLING WATER
If your water has been struck by Algae, we have developed an efficient solution that will take only 4 days to fix! Please see below for an in-depth description of what you need to do.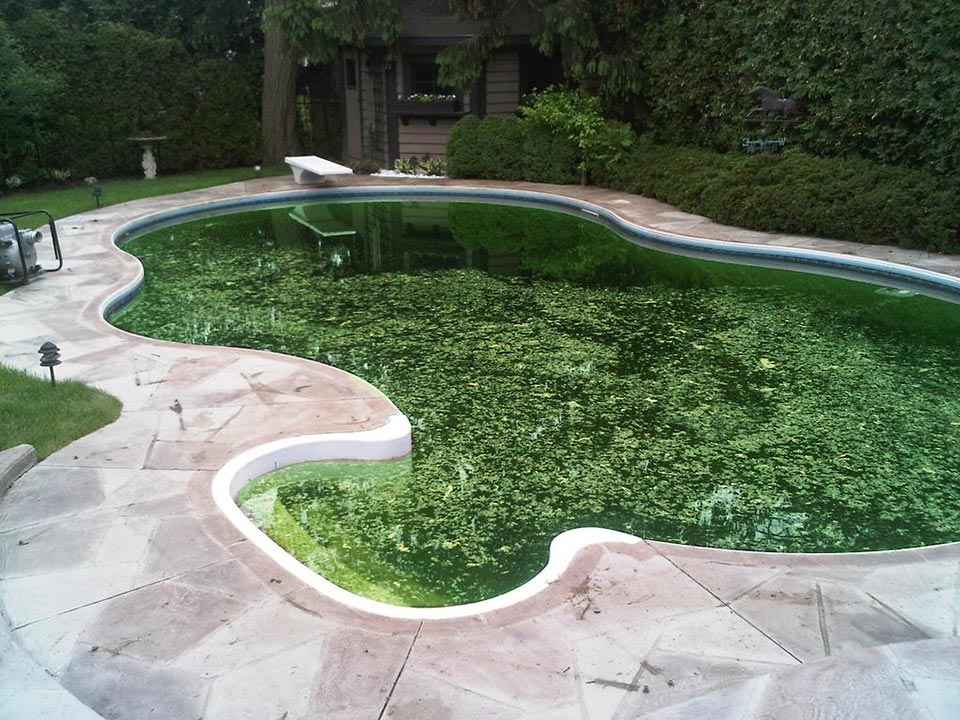 DAY 1
SUPER-CHLORINATE YOUR POOL
First, remove the automatic pool cleaner from your pool water. After doing this, you'll need to remove any stuck-on algae and increase the surface area of the algae you are trying to kill by brushing the walls and bottom of your pool. You'll also need to adjust your pH to 7.2. This is an important step because algae thrives in high pH environments therefore, neutralizing your pH is vital to successfully treating your algae problem.
In the evening, you will need to super-chlorinate your pool with either HTH Extra or Un-stabilized Liquid Chlorine.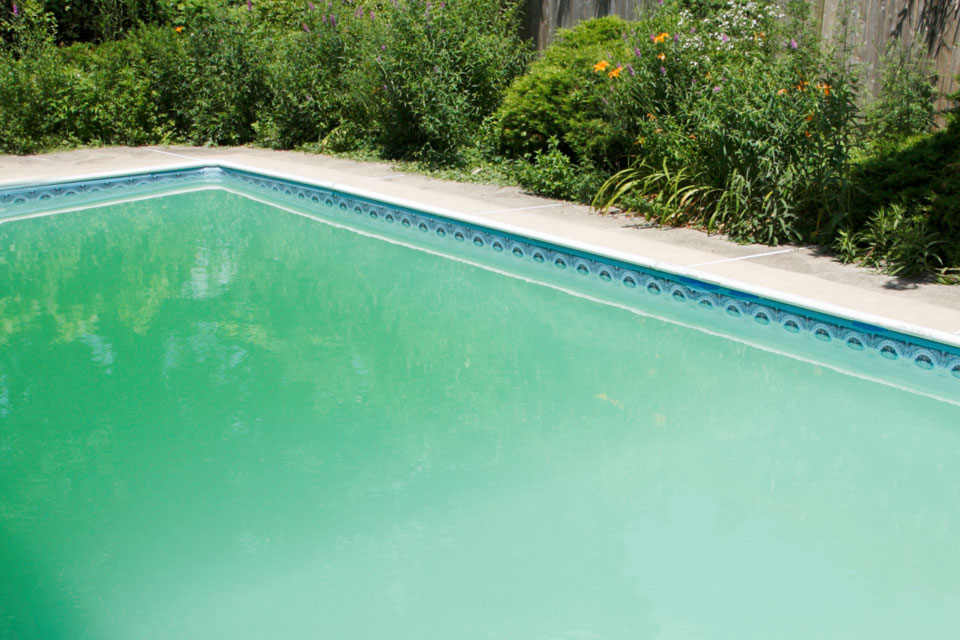 DAY 2
ADD OXIDIZER
If your pool water is no longer green, this next step is for you. If your pool water is still green, wait 24 hours and then redo the steps from Day 1.
In the morning, add Oxidizer to your pool water. In the evening, add your liquid algaecide; we recommend concentrated 40% Algaecide.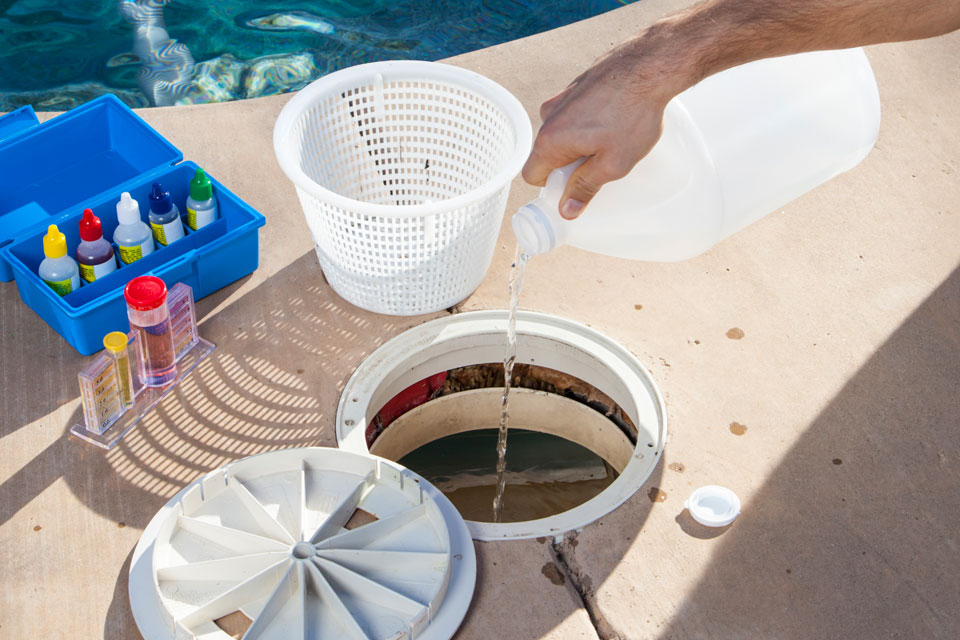 DAY 3
ADD POOL CLARIFIER
Your pool water should have turned from green to a cloudy blue/grey colour. This is a good thing! The change in your pool water colour means that you have successfully eliminated the algae and can now clean it out of your pool. If your water is still green, wait another 24 hours and redo the steps from Days 1 and 2.
Now is the time to add Pool Clarifier and let it circulate for 12 hours. This will clump the algae together into vacuumable pieces. Shut your pump off and let the cloudiness settle. This may take up to a few days for very cloudy pools.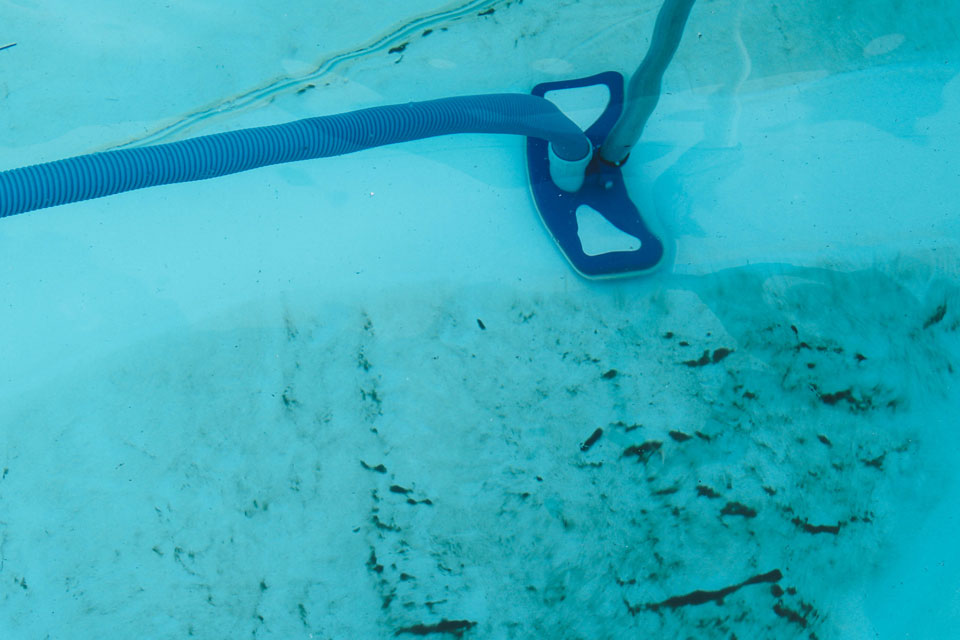 DAY 4
PREVENT ALGAE FROM RETURNING
All the algae should be dead and sitting at the bottom of your pool at this point. The dead algae is likely too fine to be vacuumed through your sand filter, therefore owners of sand filters must vacuum on the waste setting. Cartridge filter owners can vacuum up the dead algae but need to clean the filters thoroughly after doing so.
In the evening, chlorinate your pool with HTH Extra followed by adding a Phosphate Eliminating product to your skimmer to prevent algae from returning.
ALGAE FIGHTING PRODUCTS
Here are some Algae fighting products that will help you keep your pool sparkling.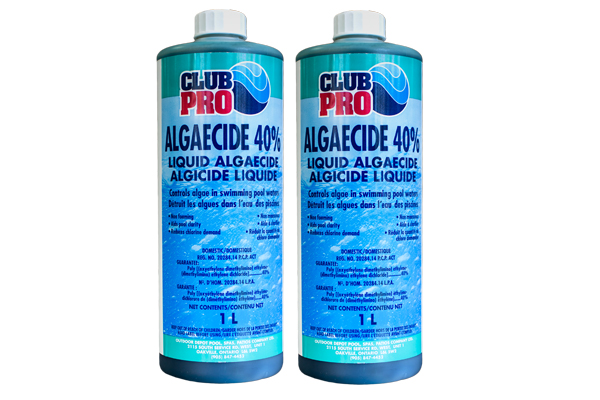 Liquid Algaecide 40%
A Liquid Algaecide is a specialty prevention chemical. Algaecides are intended for the prevention of growing of algae. Our algaecide is a liquid formula, compatible with your other pool chemicals.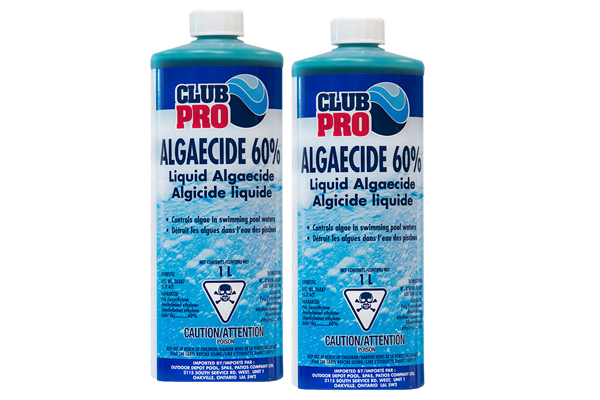 Liquid Algaecide 60%
A 60% Algaecide is a stronger concentrated formula than the standard 40% Algaecide. The strong formula is recommended for pools with re-occurring algae in a weekly maintenance program.
AlgaeFree Pool Blocks Algaecide 1.5KG
Pool Blocks all season algaecide is an extra strength, slow release solid tablet algaecide suitable for chlorine and saltwater pools. This product eliminates all forms of green, mustard and blackspot algae to deliver clean, sparkly results.
AlgaeFree Pool Drops Algaecide
Pool Drops Plus is an extra strength, long term algaecide compatible with salt water, ozone, ultraviolet and chlorine outdoor pools. Pool Drops Liquid Algaecide Plus prevents algae growth in your pool water.
AquaChek 1 Minute Phosphate Tests
Test the phosphates in your water with ease thanks to the AquaChek 1 Minute Phosphate Tests. Even low levels of phosphate can lead to algae in your pool or spa. These tests use powder pillows and vials, which offer increased sensitivity at the lower ranges.
All Purpose Scrub Brush
The All Purpose brush is designed to tackle liners with algae and dirt stains, this scrub brush will take care of just about anything. The white synthetic bristles are tough enough to take on the thickest dirt and debris, while still remaining soft enough to pose no threat to your liner.