How Much Does a Hot Tub Cost to Operate?
Advice - Hot Tub
The almighty question our hot tub customers ask is, "how much money is that hot tub going to cost to operate?" This is an all-too-common question that gets asked by customers at some point during their research phase, and rightfully so. Often this topic of conversation will steer in the direction of energy efficiency and questions are asked surrounding what type of insulation is used, and where in the world is this hot tub manufactured? As a sales professional in the hot tub industry, I can do my very best to give the hot tub shopper an approximate estimate of operational expenses based on a combination of both first-hand experience, and energy calculator tools provided by some hot tub manufacturers available online.
Important factors to consider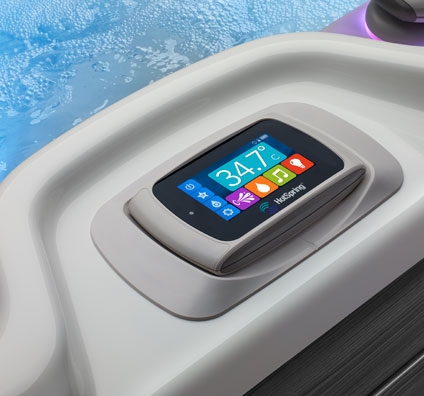 The truth is,
there are different variables
that can have a significant influence on your hot tub's operational costs.
Some of these factors include:
The model you choose (quality of insulation)
The temperature of the water
Climate (ambient temperature)
Usage (pumps on or off, chemicals and water added to top off)
Cost of hydro/electricity
Insulation is important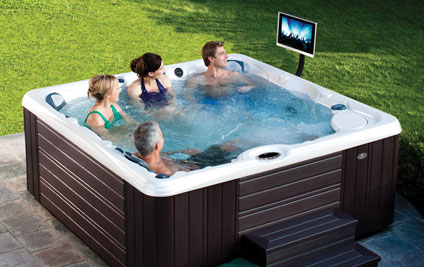 There are a few different factors that can have an effect on the
monthly operating costs
of a hot tub.
Many spa manufacturers use several different types of insulation inside their hot tubs and depending on the model you purchase, the quality of insulation could differ significantly. The quality of the insulation is a major differentiator between average and superior spas.
Some of the most thoroughly insulated spas on the market today use high-density, multi-layered polyurethane spray foam. This type of insulation solidifies and fills cracks and tiny spaces between the acrylic shell and cabinet.
For example, all HotSpring and Caldera spas in the Limelight, HotSpot, Paradise and Vacanza collections feature Fiber Core insulation. This insulation fills the cabinet completely at a density that is 4 times greater than the half-pound foam used on most spas. The Highlife & Utopia collections feature multiple layers of high density, polyurethane foam.
How often will you use it?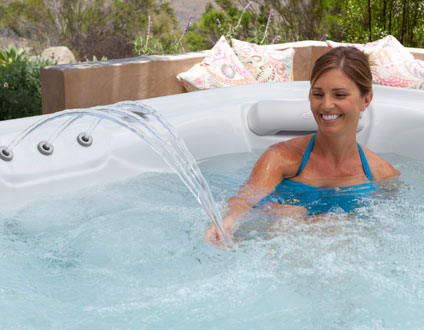 How often the hot tub is used, and the amount of time jet and circulation pumps are running
will certainly play a factor in operational expenses.
Think of it this way: having the jet pumps running at a high speed is comparable to stepping on the gas pedal in your automobile – when you step on the pedal, more fuel is used – comparably, when you run your pumps consistently, more energy is utilized. Most hot tubs on the market now have either 1 jet pump or 2 jet pumps based on the model and size. Sometimes larger hot tubs can be found with 3 jet pumps and even 4 jet pumps, drawing more electricity.
Another important feature to look out for is a circulation pump. The circulation pump circulates spa water when the jets are off, this stops the spa from circulating the water through the jets - which uses a lot more energy. All Highlife and Limelight models feature the Silent Flo 5000 pump, which uses less energy than a 40 watt light bulb! Other factors that will impact your energy bill include the quality and fit of the hot tub cover, the cost of hydro in the area, the climate you live in, as well as the frequency the spa is used.
Where do you live?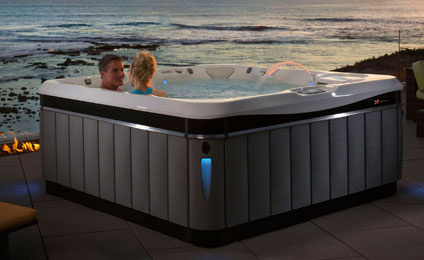 In addition to insulation and frequency of use, the
climate you live in
can drastically impact the cost of operating your hot tub.
Consequently, depending on where you live, your kilowatt rate per hour can vary along with the number of kilowatt hours needed to operate the spa.
Hot tub energy standards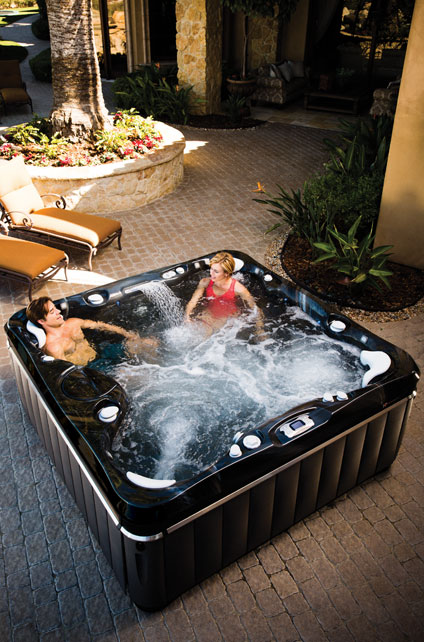 Today many spa manufacturers are required to meet more
stringent energy standards
set by the state or country where they are manufactured.
Some of the most efficient spas available on the market today are manufactured in the state of California and all models have to be certified to meet the California Energy Commission (CEC) standards and APSP 14 – the national energy efficient standard for portable spas. Some of the premium and luxury hot tub models available are packed with creative innovation and impressive features designed to keep operational expenses at a minimum, with energy efficiency primary focus.
Most hot tub manufacturers will advertise or state the operational expenses of different models on a monthly basis. Usually, if the figure that's presented to you sounds too good to be true, generally it is! As a customer, it is incredibly important to do your due diligence and read the fine print when shopping for a hot tub. As a sales representative in the industry, I would strongly encourage going to a third-party source where you can submit your own energy data and calculate your operational expenses before purchasing your hot tub or spa. It may not be accurate to the penny, but it is a terrific indicator – no big surprises!
The HotSpring Spas website features an energy calculator that allows you to input model of spa and climate and rate per kWh to estimate monthly costs.
What's important to note is the fine print underneath the energy calculator… 'Based on a medium-sized Highlife Collection spa set at 102 °F used 6 times per week, 15 minutes with the jets on, 15 minutes with the jets off during each use.' The estimates are clearly based on a heavy hot tub user soaking at a hot temperature for an extended period of time with jet pumps running.
If we use Ontario's Mid-Peak energy rate of 9.5 cents/KWH, we can calculate that HotSpring's Highlife collection will cost from $22.94/month for the smallest model (Jetsetter) to $29.17/month for the largest (Grandee).
So, how much is a hot tub going to cost you to operate?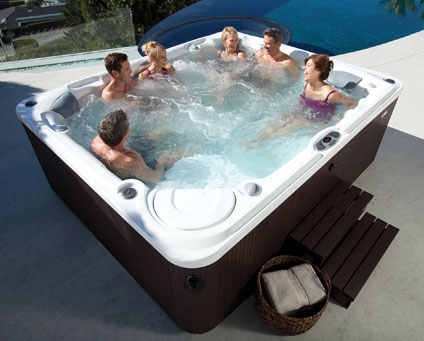 The cost to operate a high-quality hot tub is approximately
$11 per month to $70 per month
based on factors discussed above.
If you live in a harsher, colder climate and/or you're going to be a heavy hot tub user I would strongly suggest investing in a high-quality spa that's going to save you money in the lifetime of spa ownership.