ROBOTIC CLEANERS
In this buyer's guide for pool cleaners, we'll start by discussing robotic pool cleaners. The most cutting-edge cleaners on the market belong to this class. First and foremost they are extremely energy efficient, they are appropriate for all types of pools and reduce wear and tear on your pump and filtration system. Some of the more modern robotic pool cleaners also support Wi-Fi. As a result, you can configure and manage your cleaner directly from your smartphone.
Polaris Alpha IQ Plus+ Robotic Cleaner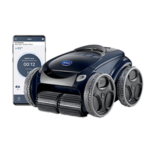 The Polaris Alpha iQ Plus+ Robotic Cleaner, which uses strategic cleaning for a sparklingly clean pool, introducing the next stage of intelligent robotic pool cleaners. The Polaris Alpha iQ Plus+ Robotic Cleaner, which provides the ultimate tailored cleaning solution with the SMART Cycle feature that learns your pool, determines the most effective time to remove debris while accumulating data to make automated modifications as it cleans. The data is then transferred to your iAquaLink app, where you have complete access and more power to monitor cleaning status, check the water temperature, and even spot clean certain areas of your pool.
InoPool 700+ Cordless Rechargeable Robotic Cleaner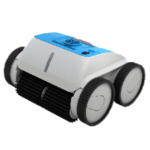 The only Robotic Pool Vacuum that is CORDLESS. With a wall-climbing feature, a 4-wheel drive system, and intelligent scanning, the InoPool 700+ is a sophisticated cordless robotic pool cleaner. It is a first-rate cleaner in every way. After only 7-8 hours of charge, the powerful battery provides up to 90 minutes of non-stop cleaning. It's cordless nature means no tangling. With its cutting-edge design, this automatic pool cleaner can clean inground pools up to 40 feet long. If you're looking for robotic intelligence at a fair price, this could be the perfect solution for you.