A Proper Pool Closing Is Extremely Important
Advice - Pools
Autumn weather has arrived at our doorsteps, with Canadian winter weather creeping around the corner! With these fall-like weather symptoms beginning to appear, you may be considering closing up your pool for the season.
If you haven't considered closing your pool anytime soon, we encourage you to book a professional pool closing with us or follow our pool closing and winterization guides, if you prefer to do it yourself, within the next couple of months.
September and October, and often times even November, tend to be the optimal months for pool closing and winterization as closing your pool too early, while the weather is still warm, can cause algae to grow in your pool. Algae growth is an issue as you'll have to spend a handful of money on chemicals and pool maintenance equipment to correct and clean your pool water.
Now that you know when you should close your pool, the remainder of this blog aims to explain why proper pool closing and winterization is vital to your pool's health.
 Protect Your Pool & Your Wallet
You have put a lot of time and money into your pool, protect it! Whether you have an inground, onground or above ground pool, your pool is one of your biggest investments and it needs to be maintained as such. Failing to protect your investment by not closing it properly can lead to severe damage in the harsh winter months.
For example, if you delay your pool's closing or don't close it properly, any remaining pool water can freeze and thus damage your pool liner, pipes, filters, pumps, and more. This can create a big dent in your wallet as your pool will need some serious fixing. Take the time to close your pools properly and if you are stuck, please contact us for help.
Pro tip: Please remove all of your pool's accessories, attachments, and filters when closing your pool; and stow them away safely during winter!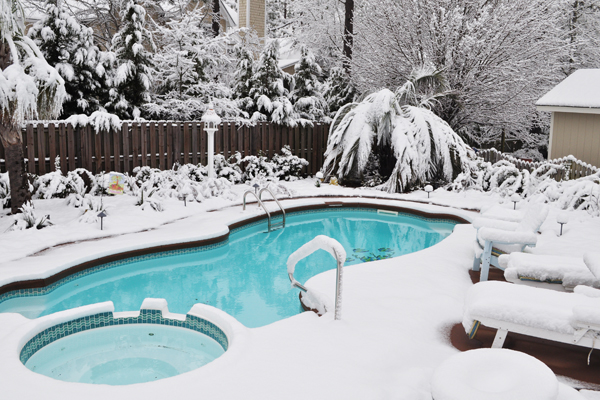 Proper Winterization Makes For A Cleaner Spring Opening
Proper winterization makes for a smoother, cleaner pool opening in the spring. You'll thank yourself when you open your pool and have less work to do to get things back up and running.
Pool closing isn't solely about draining your pool and stowing away your pool's accessories. We recommend that if you are closing your pool by yourself, that you ensure that your water is balanced, and that all debris and contaminants are cleansed from the water before you drain it.  This will keep your pool nice and clean come spring time!
Furthermore, if you clean your pool and pool water thoroughly, before and after draining, you won't have to battle getting out tough stains and debris in the spring time; saving you time, money and your pool liner!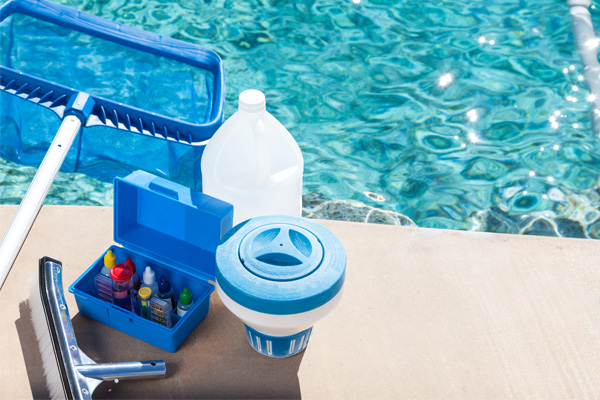 Protect Your Loved Ones
The last, and one of the most important steps in pool winterization, is properly covering your pool!
A pool cover protects your pool from the harsh winter elements but it also protects you, your family and your beloved pet(s). A good quality pool cover can support a substantial amount of weight while allowing any access water to be drained from the pool. A pool cover can be seen as a safety net for your pool, and for your loved ones.
Pool covers also give you piece of mind when your children and pet(s) are in the backyard playing. With safety covers in particular, if your family pet(s) or children happen to make it on to the pool, they will not fall in and face the risk of drowning.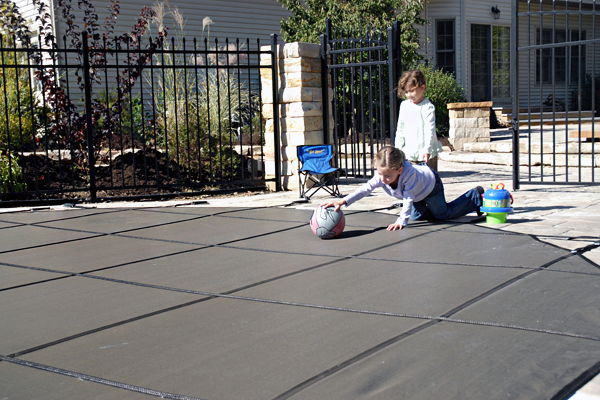 What Do We Recommend?
Safety covers are our top recommendation for pool covers if you have an inground or onground pool!
The Safety Cover, also known as the Standard Shade Mesh cover, is the easiest, safest, and most economical choice over time. It makes closing your pool a breeze by providing 95% shade to reduce algae growth from winter to spring.
Our Safety Covers are made in Canada with the highest abrasion resistance and tear strength in their class and come with an incredible 15 year warranty. Manufactured with lightweight, mesh material that's available in 4 great colours (green, blue, grey, tan) and can be custom made to fit any size or shape pool with just about any feature including raised walls, water falls, diving boards, stairs, and rails.
If you have an above ground pool, we recommend that you consider one of our Fabrene Winter Covers!
The strength of a winter cover depends on the number of weaves. Our Fabrene Winter Covers have a higher weave count, and the tighter weave fabric blocks out harmful UV rays, preventing algae growth in your pool during the winter!
 All of our pool covers are treated to provide maximum resistance to damaging UV rays to inhibit deterioration and increase longevity.
We are in the midst of pool closing season, so please act promptly! Contact us for professional assistance, or visit the guides provided below if you prefer to do it yourself.
 Resources