Save Money with a Safety Cover
Advice - Pools
Closing your pool for the season can seem like a tedious task that takes time, effort, can be costly, and overall may not be a very enjoyable experience every year. Whether you have a Vinyl Lock-In Cover that can be finicky to get into the track, or a Fabrene cover that requires water bags and can be time consuming, you're probably ready for a way to close your pool that's faster and easier. If you haven't already heard about a Safety Cover, you'll think it was a knight in shining armour, here to save you from the hassles of closing your pool, while also adding one incredible feature that can't be overlooked – safety. We've put together the 5 key features of a Safety Cover to indicate how they'll save you time, money, and energy.
cost comparison
Whether you're looking to save money, time, or your back, a Safety Cover can do it all.
With a Safety Cover, you're able to put the cover on or take it off in a matter of minutes thanks to the durable spring hooks that grab a hold of the included anchors to provide a tight and secure hold with little to no effort. Because of the easy usability of this cover you won't have to worry about spending hours unrolling and clipping the cover into place. One of the largest benefits to a Safety Cover is the savings you will enjoy over time.
Vinyl Lock-In Cover vs. Safety Cover
14' x 28' pool
vinyl lock-in cover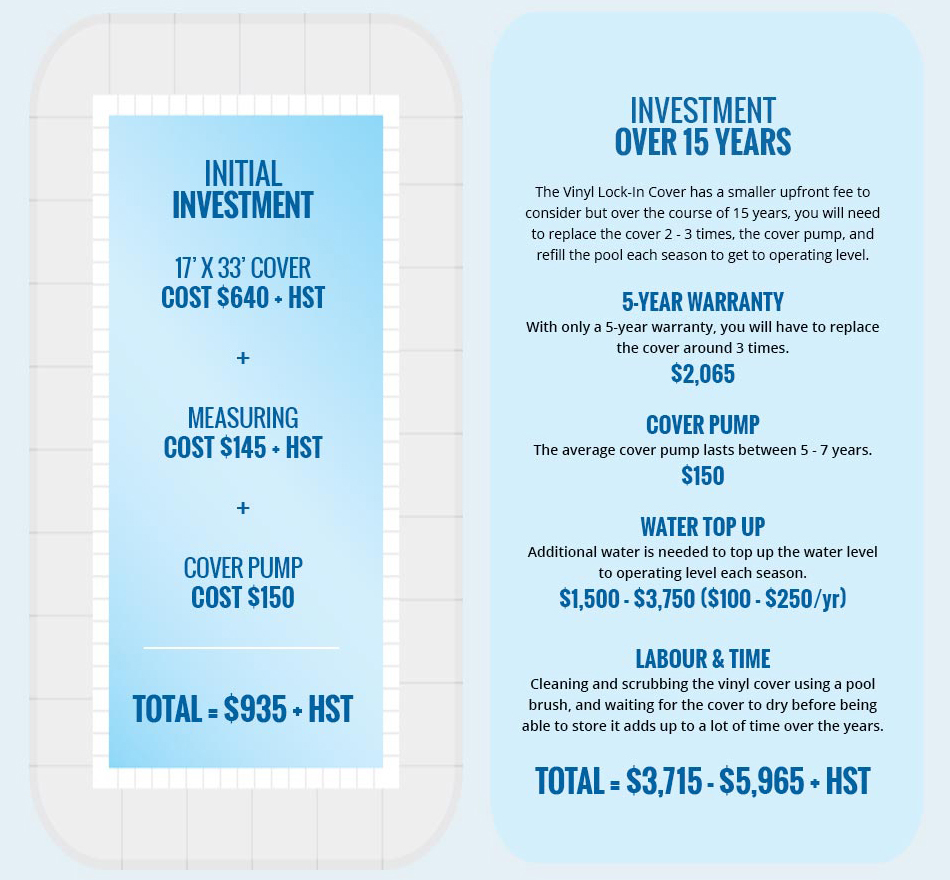 safety cover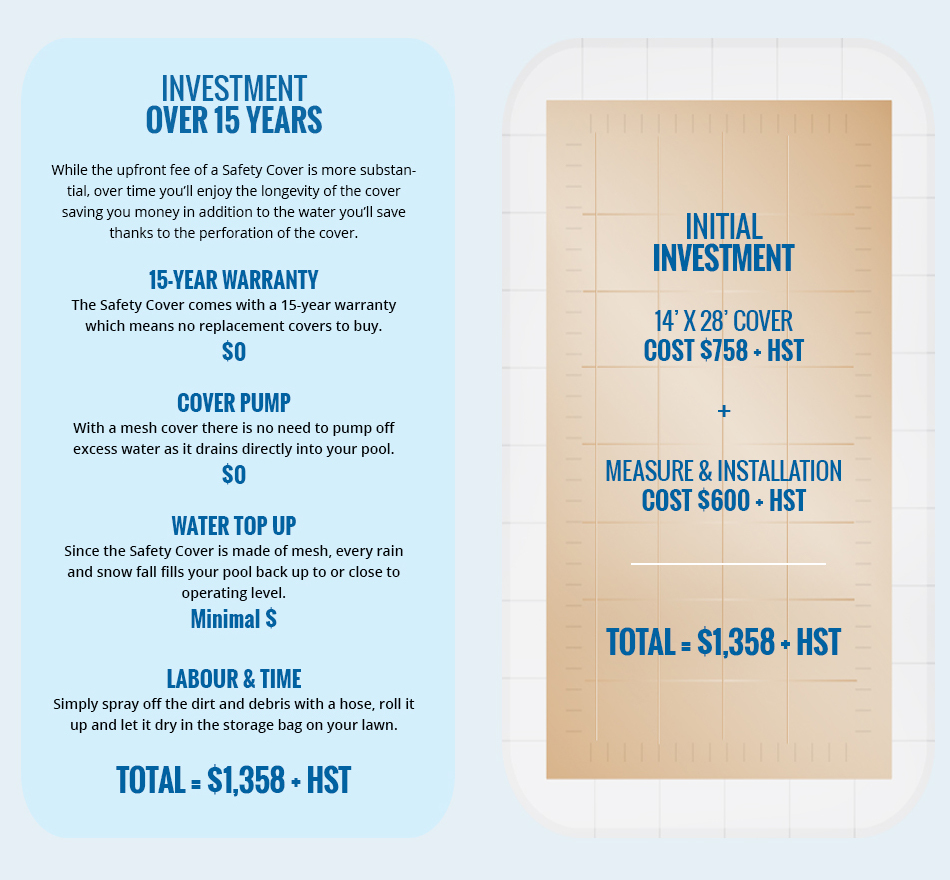 We recommend an Opening/Closing Chemical Kit be added at the start and end of each season.This cost is not included in this estimation
water savings
Here we equate the total water savings for a 14' W x 28' L x 5' D pool needing a top up of 1' of water each year over a 15-year period.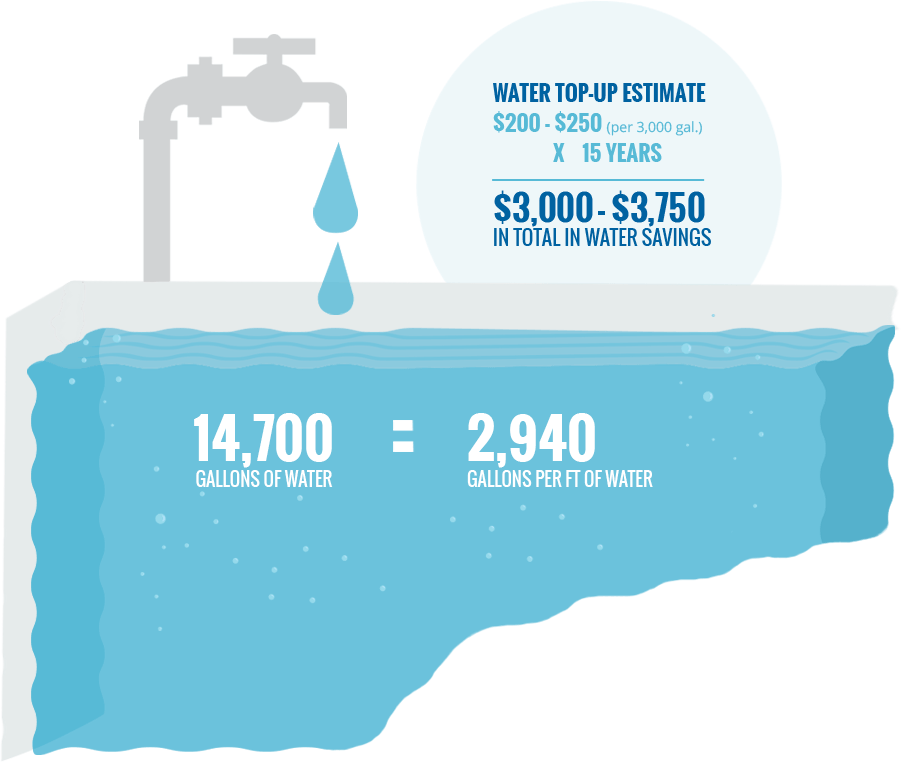 security
True to its name, safety is one of the defining benefits you'll receive.
These covers are designed to create a flush cover across your pool to provide the safest and most convenient cover system. Each cover is designed to fit tightly over the pool which provides a surface that can be walked across.
Unlike a Vinyl Lock-In Cover that once in place, can be ripped or pull in if someone were to stand on the cover, a Safety Cover is designed to hold the weight of two adults and one child but can actually hold up to 4,000 lbs. When the cover is properly in place, you won't be able to detach any of the springs from the Brass Anchors that are secured in the ground. Safety is one aspect of pool ownership you shouldn't compromise, and with a Safety Cover you won't have to.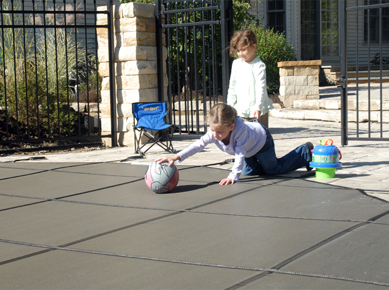 easy to use
Safety Covers are not only great for saving you time and money, but they are also one of the easiest ways to open and close your pool for the season. Here are a few of the ways a Safety Cover can make your opening and closing experience easier:



no stubbed toes

The Brass Anchors included in each kit can be mounted to the ground, a deck, or your garden if necessary. What makes these anchors so handy is their ability to thread up and down for use. When you aren't using the cover, simply thread the anchor down and it sits flush with the ground. When you're ready to put your cover on, simply use your Allan Key to thread the Anchor up and you're ready to hook the Spring on.




tight fit

The Installation bar that's included in each kit allows you to easily hook on or take off the Springs from the Anchors. Think of the Installation Bar like a shoe horn. To ensure we get the most secure fit we want to cover to be tight. This requires the Installation Bar to provide extra tension so the cover sits flush across the pool.




quick opening & closing

Opening or closing your pool will never be easier with a Safety Cover. To open, simply pop off the Springs one by one using your Installation bar, roll up the cover, and store it in the bag provided. If you're closing the pool, thread the Anchors up, hook one side of the cover on, walk around the pool to hook the other side on using the Installation Bar, then you can hook the Springs onto the Anchors one by one in a matter of minutes.




Cover can be stored wet

When summer rolls around and you're ready to use your cover, simply take the cover off, roll it up and store it inside the perforated storage bag that's made of the same material as the cover. Because the bag is made as the same material, the cover can be rolled up and put into the bag wet, and the bag will allow the water to pass through it, just as it does with the cover.
convenience
A Safety Cover isn't like a traditional Fabrene or Vinyl Lock-In Cover that takes time and effort to put on. With a Safety Cover you're able to put the cover on or take it off in a matter of minutes. This makes it the perfect option when you're heading away for the weekend or if a big storm is coming and you don't want any leaves or debris to fall in the pool. You can also have some added peace of mind while you're away knowing that your pool is covered in the event someone makes it into your backyard.
An added benefit to a Safety Cover is the added beauty it will bring to your backyard. With the option to choose between Blue, Green, Grey, or Tan you're able to closely match the colour of your pool deck, add that green patch of 'grass' you've been missing, or maintain the look of having a pool year round with a blue cover.



Tan Mesh




Blue Mesh




Grey Mesh




Green Mesh
durability
The thing that completely separates a Safety Cover from any other is the incredible strength and durability within each cover. There are a number of features included in a Safety Cover that set it apart including the Box Stitch that provides incredible strength on all seams. Corners are a particular trouble spot for most covers but with the Double Decker Edge feature each cover is hemmed, then sandwiched between two layers of webbing for years of worry free and trouble free enjoyment. Lastly, you receive the benefit of the highest abrasion resistance and tear strength material in its class that comes with a 15-year warranty. That's durability you can depend on.
What it all comes down to is whether you're looking for a less expensive cover in the short term that over time you'll end up having to pay more to keep around, or whether you're going to invest in a cover that in the long run will save you time, energy, and money. In the end it comes down to the name, because after all, swimming pool safety is priceless.
Box-Stitch
Reinforcement
Seams Are Interlocked
& Double Overlapped
Double-Decker Edges
Can't Unravel