Refinish & Refresh Your Steps
Advice - Pools

If you already have a swimming pool with thermoplastic steps, you may have seen the previous sheen and splendor of the colour fade away or dull over time. Or, if you're considering a new pool, you've probably looked at some of the step options and wondered why they don't offer them in a variety of different colours. Eco Finish is a revolutionary new pool finishing application that is able to refinish your existing steps, or add some colour and strength to your brand new steps. For those skeptical of how something like this could be possible, let us 'dive' into the details.
what is ecofinish?
Eco Finish is the incredible new finishing product that transforms your tired and old steps to like new condition in no time and with a designer finish. This revolutionary finishing product uses a scientifically formulated aquatic coating to provide a chip, peel, crack, and stain resistant seal that traditional gel-coat and paint finishes can't deliver.
This type of application is perfect for any pool owner, or prospective owner, who is looking to create a seamless colour palette throughout their entire pool. With the variety of colours available, you can easily find a solution to match your pools liner. If you already have a pool and are looking for a way to bring your steps back to life, this is the perfect option that doesn't require the time and hassle of having to pull out your old steps, and pay for brand new ones.
There are two types of Eco Finish - aquaBRIGHT & polyFIBRO
aquaBRIGHT was originally designed for concrete
but works tremendously when refinishing
thermoplastic steps, cementitious, plaster, steel,
aluminum, and hybrid pools or spas.
polyFIBRO was designed as an aquatic coating
devised to tackle the issues of traditional gel-coats finish failures on fiberglass shells making it an ideal solution to refinish thermoplastic steps.
how the ecofinish application works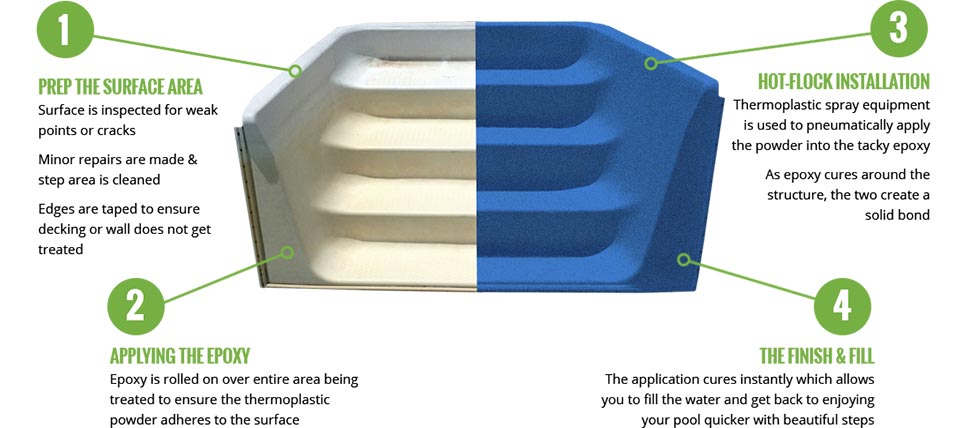 the benefits of ecofinish
For safety

Eco Finish products can be installed to provide a more textured feel for additional safety when entering and exiting the pool.

it's eco-friendly

True to its name, Eco Finish is a truly eco-friendly product that uses less energy resources to manufacture the product, outlasts longer than traditional gel finishes, and provides no leftover waste to be disposed at the end of the project.

for strength

Eco Finish is a permanent thermal finish that provides a strong and durable coating that cures instantly and lasts longer than traditional gel-coat finishes.

it's cost-effective

Rather than pulling out your old stairs and replacing them with new ones, you can revitalize and strengthen your current stairs on location, and with ease.

it's stylish

Both aquaBRIGHT and polyFIBRO finishes come in a variety of colours to help you match your liner or backyard design with ease.

We offer 2 stock polyFIBRO colours including Pacific Blue and Sandstone, and 4 stock aquaBRIGHT colours including Blue Lagoon, Kona Coast, Grey Reef, and French Grey.

We have a variety of additional colours that can be special ordered for both aquaBRIGHT and polyFIBRO finishes.