The Best Father's Day Gifts For Dad
Advice - Pools
Dads really are the best! They make us laugh, they are always there to lend a helping hand, and they truly deserve all of the greatest things in life. With Father's Day approaching, we want to make sure that all of the wonderful dads out there feel loved and appreciated. We are here to help inspire you with great Father's Day gift ideas that dad is sure to love.
One thing that is for sure, is that our dads work hard to make sure that everything is always up and running around the house. If your family owns a pool, there is a big chance that your dad has a meticulous pool maintenance routine and is often seen puttering around the pool to make sure that it is in mint condition for all to enjoy. We have compiled a list of our favourite pool maintenance products that will make your dad's life a lot easier; so he can spend more time swimming and less time maintaining.  Check out our list of our top robotic pool cleaners, that dad is sure to love below!
1. The Polaris Alpha IQ+ Robotic Cleaner!
Dad will be able to relax and control this robotic cleaner in the palm of his hand!
Ushering in the next evolution of intelligent robotic pool cleaners is the Polaris Alpha iQ Plus+ Robotic Cleaner that works to provide strategic cleaning for a brilliantly clean pool you can clearly see. Offering the ultimate customized cleaning solution with SMART Cycle functionality that learns your pool, the Polaris Alpha iQ Plus+ Robotic Cleaner calculates the most efficient amount of time to eliminate debris while collecting data to make automatic adjustments as it cleans.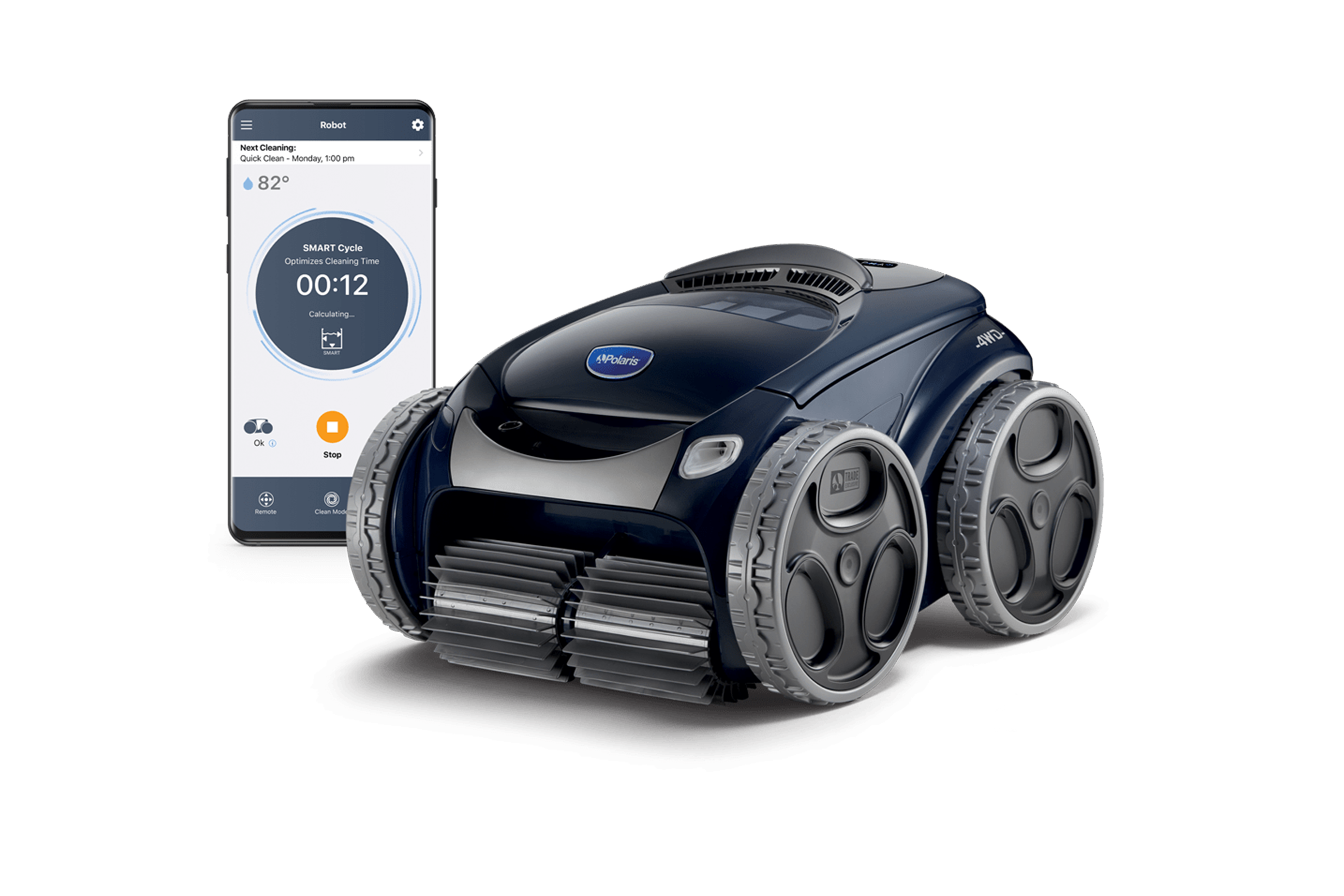 2. The Polaris 9450 4 WD Cleaner!
Dad will love that this cleaner is energy efficient and can save him money!
The energy efficient Polaris P9450 4WD Robotic Cleaner can reduce energy consumption by up to 90%, significantly lowering operating costs. It features a rear water cleaning stream which blows debris off stairs and out of tight corners. Its over-sized suction intake allows it to ingest larger debris effortlessly.
With durable Aqua-Trac tires and Vortex Vacuum Technology, the P9450 Sport tackles any pool terrain and climbs over obstacles without getting stuck. It cleans all pool surface types and scrubs the floor, steps, walls, and tile line with a pleated scrubbing brush in as little as 1.5 hours. The P9450 Sport cleans pools up to 50′ in length. It includes a new premium, compact transport caddy that can be assembled in just minutes without using any tools.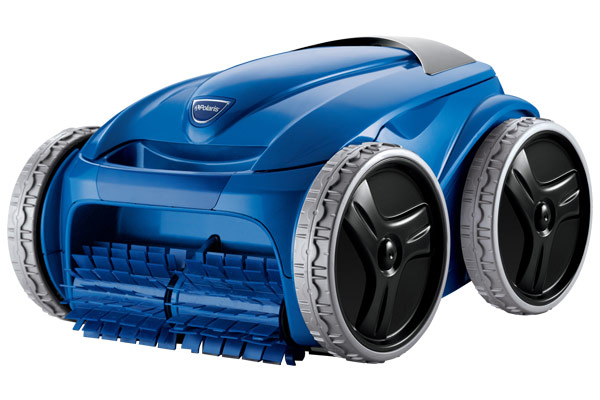 3. The Polaris 8050 Robotic Track Cleaner!
This no fuss cleaner will make Dad's pool maintenance routine a lot easier!
The Polaris 8050 Sport Robotic Track Cleaner delivers optimal cleaning performance for all in-ground pool surfaces.The Polaris 8050 Sport robotic cleaner deftly navigates all pool surfaces, climbs walls and steps, and scrubs the tile line for thorough cleaning. Cyclonic Vacuum Technology ensures powerful cleaning action that captures debris without losing suction and the Push'N'Go.
With its Cyclonic Vacuum Technology, The Polaris 8050 Sport utilizes the Push'N'Go® filter canister, enabling easy debris removal along with a large transparent viewing window.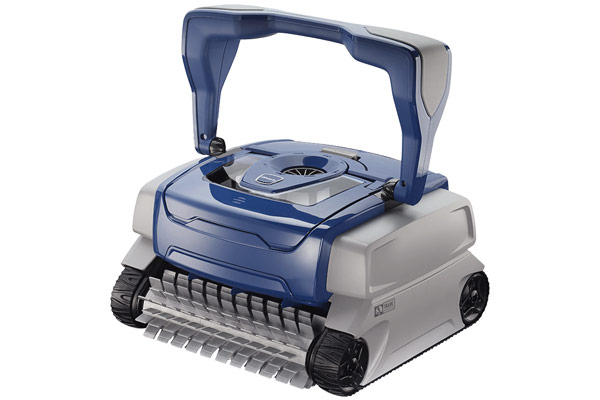 4. The Hayward Aquavac 650 Cleaner!
Dad will love that this cleaner comes with a convenient app for his smart phone!
While other cleaners can lose suction, resulting in more work for you, the Hayward AquaVac 650 Robotic Cleaner With Remote Control maintains constant power at all times. This robotic cleaner's 18 hydrocyclones form a swirling spiral of suction, creating more than enough strength to pick up even the most troublesome dirt and debris from your pool. The Hayward AquaVac 650 Robotic Cleaner With Remote Control is equipped with HexaDriveTM adaptive traction that expertly climbs and thoroughly scrubs walls with six rugged variable- speed-driven rollers that grip any pool surface.
After this revolutionary cleaner finishes it's clean, the TouchFreeTM debris canister gets rid of the mess with the press of a simple quick release button—no filter or bags to clean, and best of all, you won't have to get your hands dirty!
As the top-of-the-line AquaVac 6 Series model, the AquaVac 650 offers exciting added features including a Wi-Fi app for iPhone,® iPad® and AndroidTM devices, a SpotClean remote steering feature for quick and easy touchups and advanced light display options.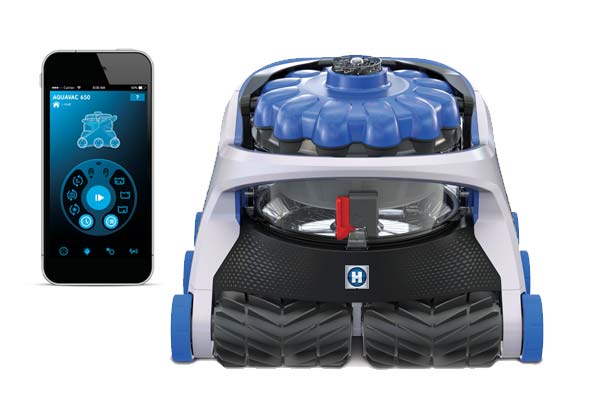 https://youtu.be/iD31oU99jpA
5. The Hayward Tigershark QC Cleaner!
Dad will love this cleaner's signature, patented quick clean technology!
The TigerShark QC by Hayward has a patented Quick Clean technology building off of the original TigerShark design to clean any shape, size or type of pool in 60 minutes. A more efficient cleaning pattern allows for quick cleanups while reaching all areas of your pool. Just set it in the pool and let it go!
The TigerShark QC uses less energy and requires no hoses or hookups allowing you to clean up to a 20′ x 40′ pool! Typical pool vacuums use filter bags, but the TigerShark QC has an easy to clean filter cartridge that slides out and can be sprayed down with a hose. The TigerShark QC is perfect for last minute clean-ups before friends or family arrive.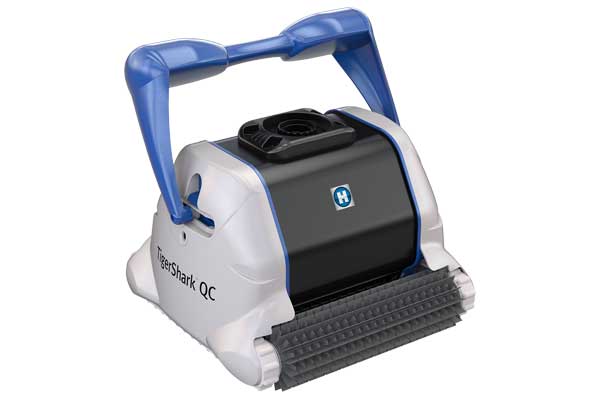 6. Dads, It's Time To Relax!
These revolutionary pool cleaners will allow dad to have a lot more time for relaxing and swimming in the pool. A clean pool is an inviting pool. Our pool cleaners will provide dad with peace of mind, total relaxation and effortless maintenance. These cleaners really are the gifts that keep on giving, time and time again.
If you would like to check out our other robotic cleaners and vacuums, please click on the button below.